Education news
Have a story idea?
Contact Journal-World education reporter Elliot Hughes:
ehughes@ljworld.com
Olathe — Free State High School seniors Alex Houston and Hannah Moran looked dejected after their second, and final, loss at the national-qualifier debate tournament this weekend.
But the disappointment soon gave way to satisfaction at the fact that they had gone six rounds in one of the toughest debate tournaments of the year.
"We kind of wanted to beat them," Houston said about the loss to a team from Shawnee Mission East.
"To be honest, we're a little surprised to get this far," Moran said. But when you get to a tournament of this caliber, a lot of it is just luck, like who you end up getting paired with."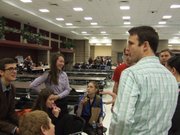 Houston and Moran made it further than any other Lawrence-area team in the East Kansas National Forensics League District tournament, one of the final debate tournaments of the season in Kansas, and the one that determines who will go to the NFL National tournament in the summer.
The event was a double-elimination tournament, meaning teams were eliminated after their second loss. After each round, organizers then "power-matched" teams for the next round, pitting the higher-seeded teams against the lower seeds.
One other Free State team, senior Logan Brown and junior Solomon Cottrell, fell out after the fifth round, while sophomores Linda Liu and Genevieve Prescher were eliminated after four rounds.
All three teams from Lawrence High School were eliminated after three rounds.
We had a young squad here," LHS coach Jeff Plinsky said. "We knew we were going to get beat up, but you don't get better if you don't compete against good teams. But those kids will be back next year, having had the experience once and sort of knowing what the level of competition is going to look like, and maybe be a little better prepared."
"I was very pleased with how they performed," said Free State debate coach Jason Moore. "Obviously their first goal was to get to Day 2. I'm very proud the kids got that far in the tournament."
Area debate squads have one more major tournament ahead before the season switches over to other speech and forensics events - the Kansas state championships, Jan. 17-18.
The 6A championships will be at Blue Valley High School in Overland Park.
Bishop Seabury Academy will be eligible to compete in the 3-2-1A championship, scheduled for that weekend in Fort Scott.
Copyright 2018 The Lawrence Journal-World. All rights reserved. This material may not be published, broadcast, rewritten or redistributed. We strive to uphold our values for every story published.