Contact KU and higher ed reporter Sara Shepherd
Have a tip or story idea?
---
More stories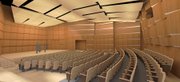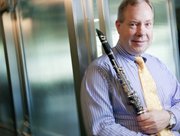 The Muriel McBrien Kauffman Foundation has donated $1 million to help renovate Kansas University's Swarthout Recital Hall, the university announced Thursday.
The gift brings to $2.3 million the amount of total private funds raised for Swarthout through the KU Endowment. The renovation budget is $2.5 million.
The recital hall, named after Donald Swarthout, dean of KU's Fine Arts program from 1923 to 1950, seats 350 people and is located in Murphy Hall on the Lawrence campus. With more than 300 performances staged there every year, Swarthout is the most used concert venue in Kansas, said KU School of Music Dean Robert Walzel.
The hall hosts student recitals, performances by faculty and guests, and also acts as a teaching space. More than one million people have attended concerts in Swarthout during its lifetime, according to estimates by the music school.
Swarthout hasn't seen any updates since it, along with Murphy, were completed in the late-1950s. "Technology for how to build a concert space has changed since 1957," Walzel said.
Slated work for the hall will be comprehensive. "I have told them I want everything in that space removed and replaced—it goes back to the cinder blocks," Walzel said. Planned improvements, which are being design by Lawrence-based Sabatini Architects, include new seating, an accessible entryway, audio-video equipment, two new grand pianos and renovations of the stage, lighting and acoustics.
The audio-visual equipment will allow for live streaming of concerts for viewing throughout the state. The hall will also get a screen and projectors, as well as some amplification technology for sound reinforcement.
Work will be done to fine-tune the building's acoustics. In reconfiguring the seating, renovators will remove seats along the hall that can hamper sound travel. They'll also add insulation to the ceiling to quiet the patter of rain that can be heard during storms.
Walzel said the school and KU Endowment hope to raise the remaining $200,000 needed for construction soon. The goal is to begin construction "the Monday after commencement" in May 2014 and to have work on Swarthout complete in March 2015.
Muriel Irene Kauffman established the Kansas City-based Muriel McBrien Kauffman Foundation in 1987 to support the arts in the region around Kansas City. In 2001 the foundation donated five new Steinway pianos for KU music school practice rooms.
Copyright 2018 The Lawrence Journal-World. All rights reserved. This material may not be published, broadcast, rewritten or redistributed. We strive to uphold our values for every story published.