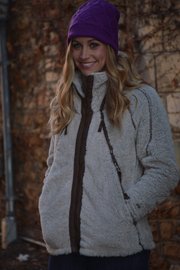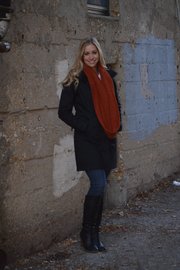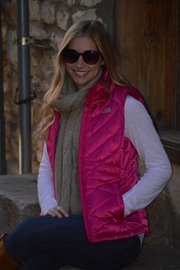 Fashion isn't always about high heels and fancy dresses.
In fact, I typically don't dress up as much as I would like; mainly because my day-to-day life doesn't require me to. After work you'll most likely find me in my comfortable attire, which includes some sort of spandex legging, an oversized hoodie or fleece, and my Ugg boots. And when it's really cold, I reach for my trusty Zara puffy down coat.
When searching for stylish sportswear, I like to keep it simple and go for brands that I know will last. The North Face is a reliable brand that creates quality apparel known for lasting many years. Thankfully, Sunflower Outdoor and Bike Shop, 804 Massachusetts St., carries The North Face and other well-known, high-quality brands that design functional sportswear with style in mind.
Style doesn't always translate to a flashy faux fur coat or a sequin dress that screams 'look at me.' I'm also a fan of the understated classics like a sleek black coat with subtle faux fur or a heavy scarf that can endure winter after winter.
Whether I'm out in the cold walking my dog or running errands, I have to be comfortable, but I still like to keep it stylish. I've recently become obsessed with puffer vests. They are the perfect layering piece for when you don't want to wear a heavy coat. Elizabeth found this feminine pink vest by The North Face at Sunflower that could be a key layering piece in anyone's winter wardrobe. You can easily pair it with jeans and boots, or spandex leggings and sneakers to amplify that sporty look. She also paired the vest with a neutral soft scarf that is equally versatile.
A lighter jacket that is casual and comfortable is also an option to have in your closet for those winter months. A furry zip-up jacket and a solid cable knit beanie is another outfit that can be worn either with skinny jeans or workout attire.
It's always a good idea to have a jacket that you can move around in when you're out enjoying the snow or even trekking the snowy sidewalks for a quick winter workout. I tend to stock up on cable knit beanies in the fall and winter for chilly days or for those inevitable bad hair days.
A fully functional and stylish coat is another item that I make sure to have in my closet. Elizabeth found one at Sunflower that could act as your go-to winter weather coat to keep warm without compromising your style.
This particular coat is down-filled with three layers that are meant to lock in the heat and shield the cold air without bogging you down.
I love a quality coat that you can rely on for years, especially one that is comfortable. Coats like these are most likely going to be investments, which is why I like to go for a neutral color like black so they can easily be styled with anything.
— Emily and Elizabeth Kennedy are twin sisters and fashion bloggers who share a blog called Fashion Column Twins. They can be reached at fashioncolumnblog@gmail.com.
Copyright 2018 The Lawrence Journal-World. All rights reserved. This material may not be published, broadcast, rewritten or redistributed. We strive to uphold our values for every story published.