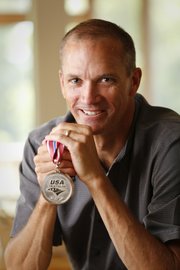 Lawrence resident Ross Freese started his triathlon career on a whim more than 30 years ago.
He was in his hometown of Hastings, Neb., in the summer of 1982 after finishing college when he heard of an event that the city was hosting. It was small as far as triathlons go, with about 100 people participating.
Freese swam competitively in high school and had recently gotten into cycling. He wasn't a bad runner, either, so he thought he would give it a shot.
"I've been hooked since," Freese said.
Since that triathlon 31 years ago, Freese has competed in several each summer. He made it to the USA Triathlon National Championship in 2003, and again in 2009.
On Aug. 10, Freese traveled to Milwaukee to compete in nationals for the third time. He took second place in his age group, 50-55, and qualified for the World Triathlon with a time of 2 hours, 1 minute and 32 seconds.
The championship was Olympic distance, starting with a 1.5-kilometer swim followed by 40 kilometers on a bike and a 10-kilometer run.
"I don't consider myself to be great at any one of the three, but I'm pretty consistent across the three disciplines," Freese said.
Triathlons are also a mental game. There's a lot of time to think, Freese said, and during the roughly two hours on the course, he goes through a full range of thought.
"I'll be half way through the swim and thinking, 'What in the heck am I doing this for?'" he said. "But then the competitive side kicks in and when you see how you're fairing against the competition, the juices start to flow."
Through the years, Freese has come to know the local triathlon community. Lawrence residents Kent and Liz Dobbins, who have both competed in the World Triathlon, serve as his inspiration. Kent and Annette McDonald, both masters swimming teachers, have provided lessons and encouragement.
The whole triathlon community, Freese said, is great to be a part of.
"Through the years you really appreciate that a bit more," he said. "Everybody has different goals and I think if you can just satisfy that, then you've won."
Copyright 2018 The Lawrence Journal-World. All rights reserved. This material may not be published, broadcast, rewritten or redistributed. We strive to uphold our values for every story published.