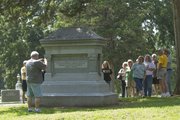 The gang from western Missouri arrived in downtown Lawrence in the morning hours. It was, however, a much different scene than the one that took place here 150 years ago this week.
"We are welcoming you with more open arms than the last time a large group came from Missouri," said Steve Nowak, executive director of the Watkins Museum of History.
While these people took the same path as Quantrill's raiders did in August 1863, the result was much different. On this trip, in fact, a couple of University of Missouri Tigers enthusiasts took a picture with a Kansas University Jayhawks fan. And they were all smiling.
About 40 tourists took off from Harrisonville, Mo., on Sunday to retrace Quantrill's raiders' path through Johnson and Douglas counties in Kansas a century and a half ago, when the pro-slavery fighters torched Lawrence.
In the afternoon, the bus riders toured the spots that Quantrill and his men destroyed on Aug. 21, 1863, which is to say, most of it.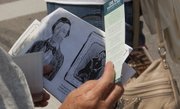 That included the Eldridge Hotel, which Quantrill's raiders wrecked just seven years after Sheriff Sam Jones also burned down the then-Free State Hotel. The guerrillas robbed, but didn't kill, the hotel's occupants, noted tour guide Ross Marshall.
One theme of the downtown walking tour was that the brick buildings at least partially survived; ones made of wood, which were most of them, did not. That structures that made it through the raid included the House Building and Miller's Hall — owned by Free State activist Josiah Miller — on Massachussets Street.
"Too bad they didn't have a psychic back then," a tour member said as the group passed the Lawrence Metaphysical Psychic Shop, 727 Massachusetts St.
They went by the former armory (across the street, fittingly, from Free State Brewery), where the town's weaponry was located when Quantrill and his men arrived during the predawn hours of Aug. 21, 1863. The raiders methodically gunned down about 200 unarmed men and boys.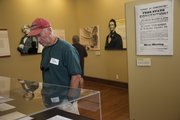 A few people attended the trip to find out more about their family history. Pete, Dave and Charlie Peters came from the Kansas City, Denver and Detroit areas, respectively, to learn more about ancestor David Tate, who was an associate of Quantrill. The guerrilla leader used to hide out on Tate's farm near Kansas City, Mo. Union soldiers once attacked Quantrill and his men on the property, a scene portrayed in the 1999 film "Ride With the Devil."
"We're just trying to get a better understanding to find out what's true and what's a myth," said Dave Peters.
David Tate was "our grandmother's favorite uncle," added Pete Peters.
"When I went to KU, my dad would say, 'The last time a Tate or a Peters came to Lawrence, they burned it down,'" said Pete, who later learned that Tate wasn't actually part of the raid. Pete then spoke for everyone when he added, "It was a bad time."
Copyright 2018 The Lawrence Journal-World. All rights reserved. This material may not be published, broadcast, rewritten or redistributed. We strive to uphold our values for every story published.