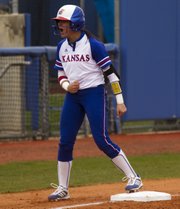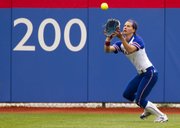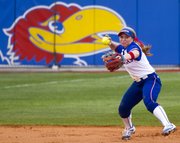 Alex Hugo helped salvage what would have been a disheartening day for Kansas University's softball team with one swing.
After suffering a 6-1 loss to Baylor in the opening game of a doubleheader on Saturday at Arrocha Ballpark, the Jayhawks took a four-run lead into the seventh inning of the nightcap.
But Baylor, ranked as high as No. 14 nationally, took advantage of a two-out error and forged a tie.
But on the second pitch of the bottom of the seventh, Hugo connected on her second homer of the game, giving the Jayhawks a 6-5 victory and split of the twinbill.
"We had confidence that our team was going to pull it out, No. 1, but when she steps up I always have confidence that she's going to do something special," KU coach Megan Smith said of Hugo. "My goodness, that was unbelievable."
Hugo's first homer and Ashley Newman's three-run triple in the fourth gave KU (30-14, 5-6) a 4-0 lead in Game Two, and though Baylor (36-13, 7-6) closed with a run in the fifth, Kansas' Chaley Brickey answered with a solo shot in the bottom.
An inning-prolonging error allowed one Bears run to score in the top of the seventh, and Linsey Hays hit a three-run homer to tie it at 5.
But Hugo connected on her walk-off blast over the scoreboard in left.
Hugo had three hits Saturday — including a triple in Game One — and has 61 for the season, surpassing the KU freshman hit record of 59 previously set by Shelly Musser in 1999.
Brickey, also a freshman, had a homer in each game, and another yearling — Kelsey Kessler (8-5) — picked up the win with a complete game. She allowed 11 hits, but just one of her five runs was earned.
"Our freshmen looked good today," Smith said. "That's a great thing. I've got to smile when I say that. All three of them did extremely well today, and we're very proud of them."
Brickey's seventh-inning shot was KU's only run in the opener.
Sophomore Alicia Pille (13-7) took the loss, while Whitney Canion (20-6) earned the win.
The series — between the Big 12's third- (Baylor) and fourth-place teams — will conclude with a single game at noon today at Arrocha.
Today will be KU's Jayhawks for a Cure Orange Game to honor people touched by kidney cancer, including Paul Buske, Smith's late husband. Fans wearing orange will be admitted for $3.
Game One
Baylor 010 212 0 — 6 13 0
Kansas 000 000 1 — 1 5 2
W — Whitney Canion, 20-6. L — Alicia Pille, 13-7.
2B — Kathy Shelton, Kaitlyn Thumann, Baylor; Maggie Hull, Kansas. 3B — Alex Hugo, Kansas. HR —Canion, Baylor; Chaley Brickey, Kansas.
Kansas highlights — Alex Jones 2-for-3; Brickey 1-for-2, R, RBI.
Game Two
Baylor 000 010 4 — 5 11 1
Kansas 001 310 1 — 6 9 2
W —Kelsey Kessler, 8-5. L — Courtney Repka, 5-2.
3B — Ashley Newman, Kansas. HR — Linsey Hays, Baylor; Alex Hugo 2, Chaley Brickey, Kansas.
Kansas highlights — Hugo 2-for-3, 2 R, 2 RBIs; Cassen Salamone 2-for-3, R; Newman 1-for-3, 3 RBIs; Kessler 7 IP, 1 ER, 1 BB, 1 K.
Copyright 2018 The Lawrence Journal-World. All rights reserved. This material may not be published, broadcast, rewritten or redistributed. We strive to uphold our values for every story published.