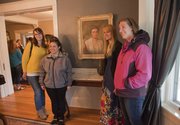 For most, the 28-room mansion tucked back on the southeast edge of Mount Oread is where Kansas University's chancellor lives. But for many of the women who stepped through its doors Friday afternoon, it was something else: the former home of the woman who made it possible for them to go to college.
Around 30 women paced through the Outlook, as the house is called, on Friday, each of whom has lived in Watkins or Miller scholarship halls at KU sometime between the 1940s and now. Guided by the booming voice of Shade Little, husband of KU Chancellor Bernadette Gray-Little, they paced through the first floor of his home and admired the ornate décor, the spacious kitchen and the artwork, including one piece that's been there for decades: a portrait of Elizabeth Miller Watkins.
Watkins is the real reason the women were there, and for many of them she was the reason they were able to come to KU.
"We all consider ourselves her daughters," said Norma Hoagland, a former Watkins resident on the tour.
Watkins was the one who gave the idea and the funding to build the two "scholarship halls" before she died in 1939. And she lived in the Outlook from 1912, when she and her husband had it built, until then.
She couldn't afford to go to college, and after her husband, Lawrence financier J.B. Watkins, died she used their wealth to create two places where young women could live almost for free while they attended KU, as long as they cooked, cleaned and took care of the hall themselves. Watkins, built in 1926, was the first such "scholarship hall" in the country, and Miller, its twin, became the second one at KU in 1937.
For decades, 49 women have lived in each hall. Seven each are assigned to seven different kitchens, each of which cooks dinner for the house one day per week. Thus, the group of alumnae and current residents that toured the mansion Friday calls itself Kitchen 8.
Their stays at Watkins or Miller spanned back to the 1940s, when Marilyn Thomas was there. During World War II, she said, there were more than the standard 49 girls there. As men withdrew to fight and more women enrolled at KU, the hall took as many residents as it could possibly fit. Her daughter drove her from Denver for the visit.
Cathie Miller, who lived in Watkins from 1970 to 1973, said the women who lived in Watkins then, picked through a selective process, had two characteristics in common.
"We were poor, and we were smart," Miller said. She and many of her hallmates, she said, could never have afforded to go to KU without Elizabeth Watkins' halls. For years, the living costs have been subsidized with the help of the $250,000 Watkins bequeathed to support the halls when she died.
Even though they lived atop Mount Oread, Watkins called the residents of the two halls the "girls who must travel uphill."
Hoagland said she and her hallmates did not know any of that when she lived in Watkins from 1969 to 1971. She remembers bringing coffee and sandwiches to the firefighters who came to the Kansas Union when it burned in 1970 amid unrest on campus. But she doesn't remember much being said about Watkins, whose other gifts helped establish an array of other KU and Lawrence institutions.
That's part of the reason Kitchen 8 exists. The group holds dinners each year to teach new residents about their "grand benefactress." Hoagland is president.
So the current residents, including sophomore Kristina Nielander, know about the woman whose gifts still allow them to live for a lower cost than they could anywhere else in Lawrence. Though Watkins does not come each morning to make sure they've done their chores before they go to class, as she did decades ago, they still know her.
"We're very lucky," Nielander said, and not just because her residence in Miller allowed her the opportunity to tour the "awesome" chancellor's mansion Friday.
The Kitchen 8 gathering Friday was part of an annual meeting for the group, but this was its first chance to tour the Outlook, which marked its 100th anniversary last year, since it was remodeled in 2009 before Gray-Little's arrival.
"It has a special meaning for us," Hoagland said.
Saturday, the group will gather to award some scholarships to current Miller and Watkins residents. The members are also working on a book about the history of KU's scholarship halls. They aim to ensure Watkins' story is never forgotten, Hoagland said.
Copyright 2018 The Lawrence Journal-World. All rights reserved. This material may not be published, broadcast, rewritten or redistributed. We strive to uphold our values for every story published.