Photo Gallery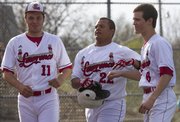 Lawrence High baseball vs. Shawnee Mission South
Immediately after his fourth-inning home run sneaked over the wall in left, Lawrence High nine-hole hitter Adam Rea started hearing it from his teammates that the wind had pushed it out.
His take?
"I think it was just a good hit," he said with a smile following the Lions' 7-1 baseball victory over Shawnee Mission South on Thursday at LHS. "It felt good right off the bat. I thought it was a good hit all around."
Rea nearly didn't get the chance to swing away.
With a 3-0 count, he received a fastball that appeared to tail inside. That pitch was called a strike to make it 3-1.
"I wanted to hit that, but 3-0, you usually have got to take that pitch," Rea said. "I'm glad that I didn't walk."
The homer only added to a productive day for the Lions' offense.
After scoring just two combined runs in three games over the weekend in the River City Classic, LHS scored 10 runs Wednesday at Olathe North before tacking on seven Thursday.
"We've got our confidence back," Rea said, "and got our swagger back a little bit."
The Lions pounded four extra-base hits Thursday, started by Shane Willoughby's two-out triple in the first.
Drew Green followed with a towering home run to right-center to give LHS a 2-0 lead.
"I was just trying to not let him sneak a fastball by me," Green said. "I was trying to take it the other way. He gave me one, and I put a pretty good swing on it."
That was more than enough for LHS pitchers, led by starter C.J. Stuever, who allowed no runs in five innings. He struck out one, walked none and never surrendered more than one hit in an inning.
"He's a strike-thrower, and he's fun to play defense behind," coach Brad Stoll said. "He's going to get hit, but if you watch him enough, he never gets hit really hard. He never gives up big extra-base hits."
Rea went 3-for-3, while Green went 2-for-3, adding a double with his home run.
LHS (10-5) will play host to Kansas City (Mo.) Rockhurst at noon Saturday.
SM South 000 000 1 — 1 8 3
Lawrence 220 201 x — 7 9 2
W — C.J. Stuever, 1-0. L — Jon Prueter.
2B — Drew Green, LHS. 3B — Shane Willoughby, LHS. HR — Drew Green, LHS; Adam Rea, LHS.
LHS highlights — Drew Green 2-for-3, HR, 2B, R, 2 RBIs, SB; Adam Rea 3-for-3, HR; C.J. Stuever 5 IP, 5 H, 0 ER, 0 BB, K; Kieran Severa 1-for-4, 3 SBs.
Copyright 2018 The Lawrence Journal-World. All rights reserved. This material may not be published, broadcast, rewritten or redistributed. We strive to uphold our values for every story published.