A year-and-change ago baseball had lost its importance to Free State High senior right-hander Dane McCullough when his world was rocked. His mother had been diagnosed with cancer and playing baseball just didn't seem to him to be the right thing to do.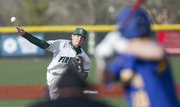 "My mother's fine now," McCullough said. "They caught it early."
And her son's passion for baseball is back, burning brighter than ever.
McCullough snapped off curveball after curveball on his way to a complete-game two-hitter in Free State's 4-1 victory Wednesday at home against Olathe South.
"I'm happy to be back because I love this team and I love these guys," McCullough said. "They always have my back. They're funny. Everything about them is great."
In the top of the fourth, the personable and polite 6-foot-4 string bean was particularly fond of shortstop Anthony Miele.
"Miele's my best friend for making that double play out there," McCullough said.
Seldom do you watch seven innings of a high school game without seeing at least one eye-popping play that reminds us just how much skill varsity high school baseball players bring to the diamond. That bang-bang double play, executed ever-so-smoothly, was just such a moment.
"I thought the 6-4-3 we rolled tonight was as good a high school double play as you'll see," Hill said. "Anthony went to the hole and made a super play and Cooper's turn was flawless and (Cooper Karlin) is just a pup (sophomore)."
McCullough also brings a maturity to the mound that belies his years.
At least half of his pitches were breaking balls. He throws two different types. His uncle, John Davies, taught him a traditional curve, and former Firebirds right-hander and shortstop Colin Toalson, now playing for KU, taught him a knuckle curve.
"Thank God it was working today or we probably wouldn't have had that outcome that we had," McCullough said of his breaking pitches. "They probably would have been hitting my fastball all over the yard. They're a good team. They hit well."
Firebirds coach Mike Hill seconded that opinion, saying, "That's as good an offensive team as you'll see and he stymied them pretty good."
McCullough struck out five and walked one in improving his record to 5-0 to go with an ERA of 0.78. In 37 innings he has struck out 32, walked 10 and allowed just 19 hits. He's the ace of the staff, which is quite a compliment considering the team ERA is 1.10, with most of the innings being tossed by McCullough, Sam Hearnen, Jacob Caldwell and Ryan Cantrell.
For the first out of the seventh inning, McCullough struck out Olathe South cleanup hitter Blaine Fisher with a curveball that dropped off the table and had the crowd buzzing.
"The depth of it, that was not a high school pitch," Hill said.
Isaiah Campbell broke up McCullough's no-hit bid with a sinking line drive to right with two outs in the fifth and the shutout fell with one out in the seventh, but McCullough wasn't going to let Free State (12-1) lose and nailed down the final out on Campbell's fly to right field.
Copyright 2018 The Lawrence Journal-World. All rights reserved. This material may not be published, broadcast, rewritten or redistributed. We strive to uphold our values for every story published.