Patricia Volle started working as a Douglas County emergency dispatcher almost right out of high school. Six years later, she says she wouldn't want to do anything else.
Volle is one of several dispatchers taking 911 calls for police and fire departments every day, from lost cats and noise complaints to deadly car accidents and armed robberies. Most people never see them at work and rarely hear them, but the Douglas County Commission invited them to last week's meeting for some public recognition and awards for six dispatchers and four chaplains who assist them. Police and emergency responders who work with the dispatchers say they deserve the thanks.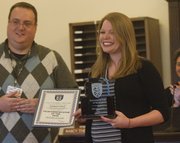 'A little overwhelming'
Sometimes, like the night Kansas University lost the 2012 NCAA championship game to the University of Kentucky, calls flood into the dispatch center seemingly all at once. And that day it goes on for hours. Pizzas and sandwiches, ordered in for dinner, sat forgotten in a corner of the room to be hurriedly eaten later, cold, when the phones stopped ringing.
"That was chaotic," Volle said. "People were rioting on Kentucky (Street), there were people in the streets, fighting. It was a little overwhelming."
But it is never boring, Volle said, and she was hooked from the beginning. "It's different every single day, and you have some of the most difficult situations. You get to hear the relief in their voices when the police or the fire department arrive. I see myself being here until the day I retire."
That could be a long ways off, but Douglas County Emergency Communications officials say they'll be happy to have Volle stay. She was recently promoted to assistant shift supervisor and accepted the Douglas County Telecommunicator of the Year award Wednesday at the Douglas County Commission meeting. Several other dispatchers, and four chaplains who assist them, also received awards in honor of National Public Safety Telecommunications Week, which began April 14.
People behind the scenes
Dispatcher Sonya Navarro was singled out for helping save the life of a suicidal person one night in January, and she accepted a Director's Award for Excellence. Navarro was new to her job when the call came in, said Scott Ruf, director of emergency communications, but she engaged the distraught person in conversation, buying time until police could get there. Lifting other people's spirits is just part of what Navarro does every day, Ruf said.
"She doesn't allow anybody to be negative," he said. "That's against the rules when she's working."
Other dispatchers recognized with commendation awards were Jennifer Maughan, Heather Belcher, Amber Riordan and Cynthia Carbone. Chaplains Paul Taylor, John Schmeidler, Matt Zimmermann and Bob Giffin received Meritorious Civilian Service Awards.
Volle said the awards meant a lot to them and admitted the job isn't always easy. The night of the 2012 championship game was hectic, to be sure, but mostly filled with nuisance calls. On other nights, deadly serious calls come in, and they don't always end well, despite everyone's best efforts.
"You can't dwell on anything that might have been," Volle said. "You handle one call at a time."
Copyright 2018 The Lawrence Journal-World. All rights reserved. This material may not be published, broadcast, rewritten or redistributed. We strive to uphold our values for every story published.