Photo Gallery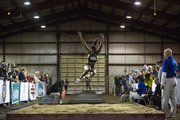 Women's Elite Pro Long Jump
Olympic bronze medalist Janay DeLoach-Soukup, who has long-jumped in stadiums big and small all over the world, now can say she's competed — and won — in a livestock arena.
"It's different ... different, to say the least," DeLoach-Soukup said with a smile after skying 22 feet, 41⁄2 inches to win the Kansas Relays long-jump competition contested in front of about 500 fans Thursday night at the Douglas County Fairgrounds.
A year ago, the 5-foot-5 former Colorado State standout won the Relays in downtown Lawrence with a leap of 21-81⁄4. The event was moved indoors this year because of cold weather.
"The crowd is here. That's all that matters," DeLoach-Soukup added. "I love this atmosphere. When the crowd is here, so close to you, they can give you high-fives. I'll definitely be coming back next year."
DeLoach-Soukup outdistanced Tori Bowie and Funmi Jimoh, who were second and third at 21-9 and 21-21⁄2 respectively.
"The fans here are great," DeLoach-Soukup said. "How often can you get this close to long jumpers and get sprayed in the face with sand? Who wouldn't want that?"
The 27-year-old DeLoach-Soukup is a two-time USA Indoor champion and 2012 World Indoor runner-up. She leaped 22-7 1-4 to place third at the 2012 London Olympics.
"In all honesty, what kind of athlete would I be if I didn't say I wanted to win? I wanted to win, (but) I was very content with having a bronze medal," she said. "I'm still going to go for a gold. Long jump, field events, running ... it's anybody's game. I'm going to keep pushing. One day maybe it's mine."
KU senior long jump/triple jump standout Andrea Geubelle, who is gearing for the Big 12 Outdoor and recovering from a heel bruise, didn't compete but watched Thursday's event.
"She's very good, one of the best jumpers in the world," Geubelle said of DeLoach-Soukup.
Rachael Klinger, who competed unattached, won the heptathlon with 4,699 points. Jourdan Doffeny of Nebraska was second at 4,629. Dan Simon of Wisconsin-Milwaukee won the decathlon with 6,429 points.
Former Baldwin High standout Isaac Twombly of Drake won the hammer throw in 194-6.
Nike's Amber Campbell won the women's hammer in a meet record 228-6. KU sophomore Evan Landes won the 5,000 meters in 14:27.42.
The Relays will continue all day today at Memorial Stadium.
Copyright 2018 The Lawrence Journal-World. All rights reserved. This material may not be published, broadcast, rewritten or redistributed. We strive to uphold our values for every story published.