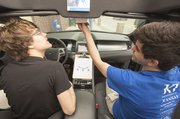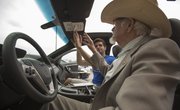 Last year, Ford Motor Company approached Kansas University's Center for Design Research, seeking help in cutting down the size and shape of the traditional vehicle gear shifter, the necessary but inconvenient automobile device often situated smack-dab in the middle of the front seat.
A team of students taking an elective design class this semester tackled the project and showed off their ideas Sunday during a public demonstration in front of Hy-Vee, 3504 Clinton Parkway.
Mechanical engineering senior Lawrence Raitinger laughed when asked about the ideas that didn't make the cut.
There was the moveable steering wheel idea, he explains, where drivers would move the steering wheel console in different directions to put the car in drive or reverse. It was fun but not practical, he said.
"This really needs to be an applicable design," Raitinger said, pointing out the various ideas on display Sunday, such as an overhead model gear shifter where drivers simply flap a panel forward or back, depending on the intended direction of travel.
The students, led by Department of Design professor Greg Thomas, invited the public to test out the ideas and provide feedback. Several prototypes were on display, including the overhead gear shifter, affixed to a Ford Taurus on-site.
Next month, a Ford representative will come to KU to check out all the ideas and see whether one might just be the next innovation in Ford vehicles.
"It's not a make-believe project," Thomas said.
The potential for the ideas to actually be utilized made the course more interesting, said Michael Shackelford, an industrial design student.
"It's been more fun once we got to the making stage," he said. "It's more real-world."
Copyright 2018 The Lawrence Journal-World. All rights reserved. This material may not be published, broadcast, rewritten or redistributed. We strive to uphold our values for every story published.