Lawrence High's softball team had lost three of its last four games, and with an unexpected chance to play at home Thursday afternoon, junior Marly Carmona knew the Lions needed something positive early.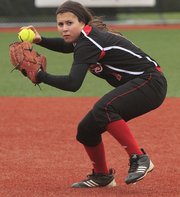 The Lions gathered up before the doubleheader and talked about starting as the visitors on the scoreboard — Shawnee Mission South requested to move the game to LHS because of wet field conditions.
"I knew we needed to step up, especially in the first inning to get on top," Carmona said.
Her leadoff double and first-inning run allowed LHS to take an early lead, and the Lions never trailed in a much-needed 9-2 victory to open the twinbill.
"That was the key, communication," Carmona said. "We'd been lacking on that."
The Lions' 11-hit effort didn't carry over to the second game, which they lost, 8-1, but LHS coach Nick Wood said it was a more competitive afternoon than the team had been able to put together lately.
"We felt like we got better today," Wood said. "Even though it would've been great to win that second game and we wish we would've."
Carmona recently moved to the leadoff spot, from No. 2 in the lineup, for LHS (4-6) after Kenzie Garvin suffered a shoulder injury.
The hard-hitting junior, who also moved over from shortstop to second base defensively in Garvin's absence, reached base on all five of her plate appearances in the Game 1 win.
Carmona doubled, tripled, walked, drove in a run, scored three times and even reached base on each of her strikeouts.
"Marly's a really good hitter," Wood said. "She always has great at-bats. She makes really solid contact, finds a way to get on base and does a really good job for us. That's why we put her in that spot. We ask a lot of her on offense."
Junior Kristen Gile came up just as big against SM South (3-3). She went 3-for-4 with a double in the seven-run victory. Gile drove in Carmona and Andrea Mills in the third inning with a bloop single to center field that gave LHS a 3-0 lead.
Later, in a six-run sixth, she singled to center again, driving home Mills and Sami Buffalomeat to put Lawrence up 9-1.
Both Mills and Buffalomeat went 2-for-3 with an RBI in the win. Morgan Byrn and Jolana Shield each added a single.
Said Carmona: "This year we have multiple returners and a lot of big bats, so we really expect people to get hits and get on base and hit people in."
The Lions couldn't reproduce their success in the second game, even though they faced starting pitcher Abby King in both games. Byrn and Mills doubled, and Gile went 2-for-3, but not much else went in Lawrence's favor. The Lions weren't sure why their offense didn't come through in the loss.
"We just weren't in it," Carmona said.
LHS plays host to Olathe Northwest on Tuesday.
Lawrence 9, Shawnee Mission South 2
Lawrence 102 006 0 — 9 11 0
SM South 001 001 0 — 2 3 1
W — Megan Sumonja, 3-3. L — Abby King.
2B — Maryl Carmona, Kristen Gile, Lawrence. 3B — Carmona, Lawrence.
Lawrence highlights — Gile, 3-for-4, 4 RBI; Andrea Mills, 2-for-3, RBI; Sami Buffalomeat, 2-for-3, RBI; Carmona, 2-for-4, RBI.
Shawnee Mission South 8, Lawrence 1
Lawrence 001 000 0 — 1 6 1
SM South 111 401 X — 8 10 0
W — King. L — Amanda Montgomery, 1-3.
2B — Justice Scales, SM South; Morgan Byrn, Mills, Lawrence. 3B — King, Scales, SM South.
Lawrence highlights — Gile, 2-for-3.
Copyright 2018 The Lawrence Journal-World. All rights reserved. This material may not be published, broadcast, rewritten or redistributed. We strive to uphold our values for every story published.