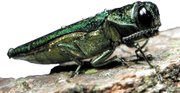 The emerald ash borer is a half-inch-long metallic green beetle that feeds on ash trees. Native to Asia, the EAB was first discovered in the U.S. in 2002. Since that time, it has killed tens of millions of ash trees.
There are several steps you can take to help eradicate the emerald ash borer and hopefully save the ash tree.
No ash trees? No problem. Emerald ash borers are only harmful to ash trees.
Don't move the wood. EABs can only travel about half a mile in a lifetime. Their proliferation across the country is a result of infected wood being transported from one region to another.
Watch for signs of EAB infestation. These include top-down thinning of ash foliage, excessive new tree shoots at the base of the tree, increased woodpecker activity, and 3 mm wide D-shaped holes around the tree trunk. Report signs of infestation immediately to the local extension office or the nearest Department of Agriculture.
Beware of insecticides that contain neonicotinoids such as Bidrin, imidacloprid or dinotefuran. Neonicotinoids have been linked to colony collapse among bees worldwide. Neem oil and Spinosad are both proven to be more effective in controlling EAB then neonicotinoids and have no residual effect on other animals or the environment.
Treat ash trees when signs of EAB infestation first appear or when an infestation is reported within 15 miles of the property. Treatments should be done in mid- to late spring or in mid-fall.
Yearly injections of emamectin benzoate (TREE-äge brand) or neem oil (TreeAzin brand) have proven to be the most effective treatment for EAB. Consider hiring a professional arborist to begin treatment on infected trees. Treatments may need to continue for the life of the tree.
Topical applications of Spinosad to infected ash trees are the second-most effective method of EAB control. Following the manufacturer's instructions, spray Spinosad on all foliage and bark as soon as signs of infestation appear. Continue application every seven to 10 days until all activity subsides.
Avoid ground applications of insecticides to the base of the tree. They are less effective than injections or topical sprays and are potentially harmful to the environment.
Consider replacing ash trees rather than treating them. Burn infected wood to destroy EAB eggs and larvae. Do not transport wood to noninfected areas.
Copyright 2018 The Lawrence Journal-World. All rights reserved. This material may not be published, broadcast, rewritten or redistributed. We strive to uphold our values for every story published.