Kansas University volleyball coach Ray Bechard says he hasn't talked to his team much this season about national rankings.
Photo Gallery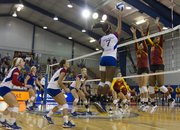 KU volleyball vs. No. 19 Iowa State
That conversation might have to come shortly after the Jayhawks knocked off No. 19 Iowa State, 25-19, 25-16, 23-25, 23-25, 15-9, on Wednesday night at Horejsi Center.
"If we keep winning, I guess they can't keep us out," Bechard said of the national rankings. "But we're making a pretty strong case."
KU, which received votes this past week and was three spots away from cracking the top 25, improved to 14-2 and defeated its first ranked opponent since Sept. 10 of last season.
"As I tell people, they say, 'Hey, you're off to a good start,' and I keep telling people this team is different," Bechard said. "We're going to continue to prove that. I think this team's different."
The victory also provided some revenge against Iowa State, which was the only Big 12 team to sweep the Jayhawks in two matches a season ago.
"We don't like talking about last year," KU junior outside hitter Catherine Carmichael said, "but also it's one of those things where it gives you motivation to not lose like that again."
Bechard admitted his team played "really good" the first two sets, which included a 9-1 run to end the second set.
Iowa State rallied to tie it, 2-2, before Bechard gathered his team before the final set.
"We were getting a little bit hurried," Bechard said. "I said, 'Let's slow down, play the style we want to play.'"
The Jayhawks responded, jumping out to a 9-1 lead in the final set while also forcing two ISU timeouts.
"We're a new team this year, and we have new confidence," Carmichael said. "That was an absolute great win for us."
Four KU players finished with at least 13 kills, including Tiana Dockery (14), Caroline Jarmoc (14), Sara McClinton (14) and Carmichael (13).
The true freshman Dockery added a double-double with 15 digs.
"That was really good volleyball," Bechard said. "I hope fans understood that was pretty high-level. Obviously, I'm excited."
ISU (7-5) had previously won six of its last seven matches, including 3-1 victory over then-No. 1 Nebraska on Sept. 15.
KU, which doesn't play again until Tuesday at West Virginia, hasn't been ranked since 2005.
"It would be really awesome, too, because we have been working hard," Dockery said. "Our goal is to make it to the NCAA Tournament, and that's what we plan to do."
Copyright 2017 The Lawrence Journal-World. All rights reserved. This material may not be published, broadcast, rewritten or redistributed. We strive to uphold our values for every story published.