Bishop Seabury Academy fell to 7-3 in girls volleyball, losing at home to Barstow 25-17, 25-19, 14-25, 25-14.
Photo Gallery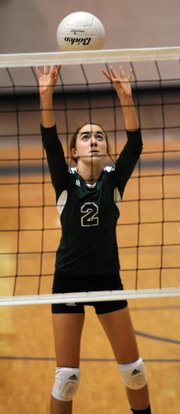 Seabury volleyball vs. Barstow
Freshman Meghan McClorey led a 20-ace team effort with five. Senior Courtney Hoag had 12 kills, senior Sarah McDermontt nine. Freshman Taylor Hodge had 20 digs, and senior Alexa Gaumer nine assists.
Seabury hosts Kansas City Christian and Immaculata on Thursday at 5 p.m.
Copyright 2018 The Lawrence Journal-World. All rights reserved. This material may not be published, broadcast, rewritten or redistributed. We strive to uphold our values for every story published.