Nancy Pollard used to tell her kids which parts of the snow they could play in.
A small patch of land near their Lecompton home had to remain pristine, after all, to measure the precipitation accurately for the National Weather Service in Topeka.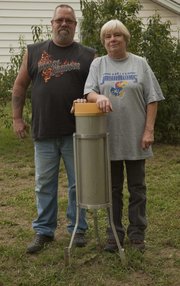 Nancy and Leo Pollard have been recording the weather on their property for 30 years. Before they did it, Nancy's dad did, and it has become a 50-plus-year family tradition.
"It's important to do for the records," Leo said. "They use the information to track how the climate's changing, for the history of it."
This summer, for instance, was the driest they've ever seen. The rain gauge by the Pollards' hasn't seen a whole lot of use, they say, but still they call in to Topeka — to record, for history.
The most rain they've ever had to call in was in 1993, Leo says. Five whole inches, at least, in a single day. That's not something you forget.
The Pollards used to get paid for their trouble. Not much, but something.
"But cutbacks, everything's cutbacks," Nancy said.
Still, they continue to do it, calling in what little weather activity they have to report. They take the measuring stick and put it in an upright metal pot that collects rain, with Harley, the little guy they call "Lecompton's town dog," watching nearby. They call every 24 hours with rain — or lack thereof — to report, and if ever they see hail, tornadic activity or, in the winter, snow.
They've got their 8-inch rain gauge, and now a plaque from the National Weather Service thanking them for their 30 years of service. Their data, which helps out because the weather service can't track all across the state, goes into climate models across the world.
But it's just tradition for them. It's something the family's always done, and, as Leo put it, "I just love watching the weather. I think everybody does."
Copyright 2018 The Lawrence Journal-World. All rights reserved. This material may not be published, broadcast, rewritten or redistributed. We strive to uphold our values for every story published.