Parker Davies scored off an assist by Robert Lyan four minutes into the game, and Lawrence High's boys soccer team defeated Shawnee Mission Northwest, 1-0, on Thursday night at LHS.
Photo Gallery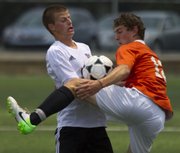 Lawrence High boys soccer vs. Shawnee Mission Northwest
Goaltender Jeff Mekus recorded the shutout.
"The defense played awesome," LHS coach Mike Murphy said. "We did what we needed to do. We had some other great opportunities, but we couldn't quite find the net. Sometimes that second goal is hard to get, but we made that one stand up."
The Lions (3-1-1) will play Saturday at Junction City.
Copyright 2018 The Lawrence Journal-World. All rights reserved. This material may not be published, broadcast, rewritten or redistributed. We strive to uphold our values for every story published.