Overland Park — After last week's loss, Lawrence High coach Dirk Wedd admitted to having a "man-to-man" talk with his offensive linemen about what it means to play up front for the Lions.
Photo Gallery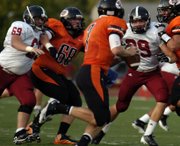 Lawrence High football vs. Shawnee Mission Northwest
The big men responded in impressive fashion Friday night, dominating the line of scrimmage in LHS's 42-13 victory over Shawnee Mission Northwest at Shawnee Mission North District Stadium.
The Lions finished with 37 carries for 277 yards, good for a 7.5-yard average.
"We base everything off of trying to get 100 yards for our running back between the tackles, and then everything else opens up after that," Wedd said. "They came out and punched them in the mouth."
The biggest beneficiary was running back Tyrone Jenkins, who posted just 11 carries for 35 yards a week ago in LHS's 20-14 loss to Shawnee Mission West.
The senior back found lots of openings Friday, notching 14 carries for 161 yards and three touchdowns.
"Our line did a great job," Jenkins said. "We showed we're capable of doing that every Friday."
Quarterback Brad Strauss helped LHS to an early lead, rolling right to scramble away from pressure before throwing a deep ball across the field to Will Thompson for a 27-yard score on the Lions' first possession.
Strauss scored the next TD himself, running by a Northwest blitz and scrambling 55 yards down the right sideline for the touchdown.
The key block came from Jenkins, who knocked a Northwest defender on his back in the open field.
"I didn't even see the block, honestly. I just pointed, trying to get him to go block someone," Strauss said. "I heard it (though). It sounded like it was a pretty big hit."
Jenkins seemed to get energized after that, carrying the ball for the next three LHS touchdowns.
His first score — a 26-yard run around the left side — was helped by an outside block from senior wideout Drake Hofer.
Jenkins added a 15-yard TD run straight up the middle with 4:09 left in the second quarter, then tightroped the right sideline for a 21-yard touchdown with 1:58 left.
"He had some great runs. He ran hard. He ran with his pads down," Wedd said. "It's hard to tackle him when he starts playing with his knees high and his shoulder pads and his helmet ... there's nothing soft there."
The Lions (1-1) led, 36-7, at halftime.
Hofer tacked on the final score, catching an 11-yard strike from Strauss with 1:29 left in the third quarter.
With a 42-7 lead, LHS subbed out many of its first-team players.
LHS's strong rushing effort came with a reshuffled offensive line, as starting right tackle Chris Gillespie sat out with a concussion.
That moved senior Art Hall to right tackle, where he picked up his first varsity start.
"I think we were just all ready to come in here and do what we had to do to get back on the radar," Hall said.
Wedd said he was pleased with what he saw from Hall and also was happy with the improvement in junior linemen Alex Jones and Kyle Wittman from Game One to Game Two.
Strauss finished 11-for-15 passing for 169 yards and two touchdowns while adding 10 rushes for 89 yards and a score. He also contributed an interception at safety.
Thompson went over 100 receiving yards for the second straight game, catching five passes for 105 yards with a TD.
Northwest (1-1) mustered just 217 yards of offense on 51 plays.
Box score
LHS SMNW
Rushes-yards 37-277 36-129
Passing yards 169 88
Total offense 446 217
Return yards 15 44
Fumbles-lost 1-0 1-0
Penalties-yards 7-55 1-5
Score by quarters
LHS 22 14 6 0 — 42
SMW 0 7 0 6 — 13
Individual statistics
Rushing
Lawrence: Tyrone Jenkins 14-161 3 TD; Brad Strauss 10-89 TD, Erick Mayo 5-23, Tucker Sutter 1-7, Asaph Jewson 4-4, Team 1-minus-1, Dearion Cooper 2-minus-6.
Shawnee Mission Northwest: Devin Shockley 8-91 TD, Kelby Quint 20-42, Connor Jarman 2-9, Lucas Karlin 2-1 TD, Alex Quinn 1-0, Reed Bowker 1-minus-2, Jake Horner 1-minus-3, Alex Springer 1-minus-9.
Passing
Lawrence: Brad Strauss 11-15-169 2 TD.
Shawnee Mission Northwest: Lucas Karlin 8-15-88 0 TD, 2 interceptions.
Receiving
Lawrence: Will Thompson 5-105 TD, Tyrone Jenkins 2-25, Drake Hofer 2-19 TD, Erick Mayo 1-11, Asaph Jewson 1-9.
Shawnee Mission Northwest: Luke Fields 3-49, Roosevelt Bryson 2-16, Ryan Spaits 1-13, Kelby Quint 1-7, Connor Jarmin 1-3.
HOW THEY SCORED
First quarter
7:42 — Will Thompson 20 pass from Brad Strauss. Strauss pass failed. (LHS 6, SMNW 0.)
5:52 — Brad Strauss 55 run. Strauss run. (LHS 14, SMNW 0.)
4:47 — Tyrone Jenkins 26 run. Strauss run. (LHS 22, SMNW 0.)
Second quarter
9:19 — Devin Shockley 21 run. Jonathan Killeen kick. (LHS 22, SMNW 7.)
4:47 — Tyrone Jenkins 15 run. Strauss pass failed. (LHS 28, SMNW 7.)
1:58 — Tyrone Jenkins 21 run. Jenkins run. (LHS 36, SMNW 7.)
Third quarter
1:29 — Drake Hofer 11 pass from Brad Strauss. Tyrone Jenkins run failed. (LHS 42, SMNW 7.)
Fourth quarter
6:30 — Lucas Karlin 1 run. Jonathan Killeen kick blocked. (LHS 42, SMNW 13.)
Copyright 2018 The Lawrence Journal-World. All rights reserved. This material may not be published, broadcast, rewritten or redistributed. We strive to uphold our values for every story published.