City officials are going to have to provide some extra information before downtown property owners will consent to an extra tax to fund more parking near the expanding Lawrence Public Library.
"There is no question that we need more parking in downtown," said Mike Riling, a downtown attorney and member of the Downtown Lawrence Inc. board. "But the question is how much will this plan help to improve parking in downtown?"
In early July, City Hall officials proposed creating a special benefit district that would charge a new assessment to downtown property owners to fund a $1.2 million project to add another level of parking to a garage planned to be built next to the Lawrence Public Library at Seventh and Vermont streets.
Under the plan, the extra level of parking would add 72 additional spaces to the garage — which is scheduled to have about 250 spaces if the city does not proceed with the extra level of parking.
But to pay for the project, downtown property owners would have an extra assessment added to their property tax bills for the next 10 years.
As currently proposed, property owners along much of Massachusetts, Vermont, New Hampshire and parts of Kentucky streets would pay 47 cents for every square foot of land they own in the downtown district. For a typical 25-foot-wide retail lot on Massachusetts Street, that would amount to about $140 a year for 10 years.
Thus far, the proposal hasn't generated many strong opinions either way in downtown.
"I've heard favorable comments and I've also heard from people who say this isn't the time they're interested in paying additional taxes," said City Manager David Corliss. "My point continues to be that we get so few opportunities to add downtown parking."
Several downtown leaders said they expect business owners will start speaking out on the proposal once the city holds a series of informational meetings about the project.
The city has scheduled two meetings with downtown property owners at 7:30 a.m. Sept. 18 and Sept. 20 at the Lawrence Arts Center, 940 N.H.
"I think people will want to know who the city thinks will be using these new spaces," Riling said. "Will it alleviate some of the overall issues with downtown parking or will it really just be a library thing?"
Other downtown merchants said that may be tough to figure out.
"It is really not an either or thing," said Jim Bateman, an owner of The Yarn Barn. "If extra people are coming to the library, they are coming to downtown. They will be parking somewhere in downtown."
City Commissioner Aron Cromwell said the city needs to be prepared for the impact larger crowds at the library will have on downtown.
"If you look back at the trends of library use over the last five years, it already has had tremendous growth," Cromwell said. "Once we put a new shine on the library, that trend is really going to go up. It will skyrocket. Everybody in the community is going to want to see the new library."
Construction work on the $19 million library expansion and parking garage is expected to begin before the end of the year.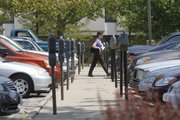 City officials likely will need to decide by the end of September whether to add another level of parking to the proposed garage.
Downtown property owners do have the option of trying to gather enough signatures to file a protest petition to stop the special assessment. To do so, more than half the district will have to object to the proposal.
City commissioners said feedback from property owners and downtown merchants will be important in deciding whether to move forward.
"I'm still weighing the pros and cons of it," City Commissioner Mike Dever said. "My gut tells me that if we're going to add more parking, doing it while we already are going to be in the middle of a construction project is a good time to do it. But we have to make sure we have buy in from the stakeholders."
Copyright 2018 The Lawrence Journal-World. All rights reserved. This material may not be published, broadcast, rewritten or redistributed. We strive to uphold our values for every story published.