Photo Gallery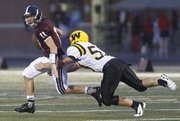 LHS football v. Shawnee Mission West
Images from the Lions' 20-14 loss to Shawnee Mission West.
Box score
SMW LHS
Rushes-yards 45-145 32-87
Passing yards 0 195
Total offense 145 282
Return yards 56 131
Fumbles-lost 5-2 0-0
Penalties-yards 1-15 5-35
Score by quarters
SMW 0 7 6 7 — 20
LHS 0 8 0 6 — 14
Individual statistics
Rushing
Shawnee Mission West: Brett Sterbach 27-115 3 TD, Steffon Ward 6-31, Jordan Dillard 2-4, A.J Verdini 7-1, Team 3-minus-6.
Lawrence: Brad Strauss 17-45 TD, Tyrone Jenkins 11-35, Erick Mayo 2-7, Jordan Brown 1-2, Team 1-minus-2.
Passing
Shawnee Mission West: A.J. Verdini 0-4-0 interception.
Lawrence: Brad Strauss 17-33-195 TD, 2 interceptions.
Receiving Lawrence: Will Thompson 5-103, Drake Hofer 5-41, Erick Mayo 3-31 TD, Tyrone Jenkins 3-18, Jordan Brown 1-2.
HOW THEY SCORED
Second quarter
8:42 — Erick Mayo 26 pass from Brad Strauss. Will Thompson pass from Strauss. (LHS 8, SMW 0.)
3:33 —Brett Sterbach 5 run. Joey Reed kick. (LHS 8, SMW 7.)
Third quarter
4:42 — Brett Sterbach 5 run. Sterbach run failed (SMW 13, LHS 8.)
Fourth quarter
9:42 — Brett Sterbach 6 run. Joey Reed kick. (SMW 20, LHS 8.)
9:18 — Brad Strauss 20 run. Strauss sacked on conversion. (SMW 20, LHS 14.)
Somehow, Brad Strauss gave his team one final shot at a tie score.
Following a sack, Strauss, Lawrence High's quarterback, looked up to the clock and saw 8 seconds left in the fourth quarter ... with the clock running. With the Lions trailing by six on the Shawnee Mission West 16-yard line, the senior looked to the sideline for a play call, lined up his teammates and was able to signal for a snap.
The ball reached his hands with less than a second left.
Just before getting hit, Strauss delivered a jump-ball to the end zone for 6-foot receiver Drake Hofer.
"I just had to give him a chance," Strauss said following the Lions' 20-14 loss at a rainy LHS stadium. "Drake's a great playmaker."
The Vikings defense held up, though, as a West cornerback held his ground to shield Hofer from the ball.
"I tried to come back, and he was right there in position," Hofer said. "I couldn't do much about it."
West's players stormed the field after the incompletion, celebrating a victory in which they held the Lions scoreless during three red-zone possessions in the final five minutes.
The first possession ended up being the one the Lions regretted most.
Following a 54-yard punt return by Strauss to the SMW 17, LHS drove all the way to the one-yard line, where it faced a third-and-goal.
Senior running back Tyrone Jenkins was stacked up on an inside run, though, losing a yard after West's defenders were able to get penetration.
"I'm sure they made a good play," Hofer said, "but we've got to get that in."
On fourth-and-goal from the two, Strauss' pass intended for Erick Mayo was broken up by West's Rob Rice.
"Erick had his guy beat. I thought I threw a pretty good ball," Strauss said. "The kid made a pretty good play on it."
West took over on downs, but two plays later, West quarterback A.J. Verdini fumbled, with Mayo falling on the loose ball at the West 10-yard line with 2:19 left.
"Our defense played really good," Mayo said. "We just needed to capitalize on offense."
The Lions couldn't do it, going backwards on their next three plays before Strauss threw a desperation interception to West's Andre Maloney with 1:26 left.
With the outcome nearly sealed, West once again couldn't hold onto the football. Verdini lost the ball on third down, and Lawrence's Kieran Severa fell on it at the West 15 with 1:06 remaining.
Strauss lost a yard on a run and then completed a five-yard pass to Hofer before getting sacked with eight seconds left, setting up the final desperation play.
"To be able to stop us three times on the goal line in the fourth quarter ... this is a good team," Strauss said of West. "You've got to give them a lot of credit for that."
Strauss, who underhanded an interception to Marquan Osbey while trying to avoid a sack early in the fourth quarter that led to a West TD, nearly single-handedly pulled LHS back into the game after that.
He led the Lions on a two-play, 58-yard drive, which included a 38-yard pass to Will Thompson and a 20-yard score of his own.
He later added the long punt return to put the Lions inside the West 20 and, during a rainy night, finished 17-for-33 passing for 195 yards with a passing and rushing TD.
"He's unbelievable," LHS coach Dirk Wedd said. "He gave them six points, and then basically brought us back by himself. He's pretty special. A kid like that comes along once in a great while."
LHS (0-1) lost despite nearly doubling the yardage of West (282-145).
The Vikings also won without completing a pass, as Verdini went 0-for-4 with an interception to Mayo.
"I saw a million positive things," Wedd said of his players. "They fight so hard. They're a very special group of kids. They're going to be fine."
Copyright 2018 The Lawrence Journal-World. All rights reserved. This material may not be published, broadcast, rewritten or redistributed. We strive to uphold our values for every story published.