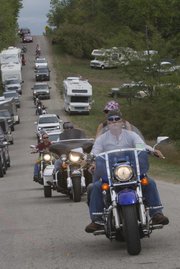 If your party gets rained on, party in the mud.
This was the example set by the thousands of motorcyclists and campers who descended on Paradise Point at Perry Lake on Friday for a Labor Day weekend filled with partying, live music and, of course, motorcycles.
"It's better than Sturgis," said Barb Berry, of Scott City, braving the rain as she waited in line to register for the her sixth Labor Day Rally. "You don't have Johnny Law here looking over your shoulder. Everything goes."
The event lasts until Sunday and serves as a fundraiser for the Kansas chapter of A Brotherhood Against Totalitarian Enforcements (ABATE).
"It defers the cost we pay for lobbying at the state level," said Sandy Pritchett, ABATE club treasurer. "We lobby for the right to make your own decisions."
She said the group has stances against mandatory helmet laws or other laws it views as infringements on biker rights.
Pritchett declined to say the amount the event raises for the group, but with a crowd of 8,000 expected for the weekend, and weekend tickets costing between $25 and $35, it is a substantial amount.
On the outside, the rally might be about politics, but once inside the campgrounds, it's all about having a good time. It's world of leather, beards and polished bikes, set to a soundtrack of Harley engines and rock music. Need a tattoo? A parlor is on-site. Vendors sell everything a person would need to look like a bona fide biker.
There are also concessions, a performance stage, a dance floor and plenty of Mardi Gras beads, which are distributed liberally and often. Basically, it's a carnival for adults.
This environment draws Pete Tavares and others back every year.
"It's about having fun. It's laid back," said Tavares, of Topeka, attending his 17th Labor Day Rally.
Tavares first went to the event as a fill-in food vendor. He now comes annually, sells Mexican food, and enjoys the festival and the friends he has made. Some of these friends are hungry as well. Tavares' food stand, Paydro and Lena's Concessions, has prepared 400 pounds of meat to be served this weekend.
As the night wore on, the dance floor became more crowded as people cut loose.
And while there was plenty of alcohol and no shortage of tough-looking guys, the crowd remained friendly.
Both Tavares and Berry agreed that fights were a rare occurrence.
"You respect each other and treat them how you want to be treated," Tavares said.

Berry said violence is at a minimum at the events because everyone is happy and knows the weekend centers on camaraderie and brotherhood.
Still, Berry said not everyone understands what the event is about or the people who go.
"We get tours of elderly folks through here. They look at us like we are animals in the zoo," she said laughing.
Copyright 2018 The Lawrence Journal-World. All rights reserved. This material may not be published, broadcast, rewritten or redistributed. We strive to uphold our values for every story published.