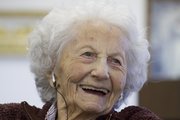 EUDORA — Whenever Henrietta Olson talks, people carefully listen to her quiet and oftentimes pointed responses.
The witty Eudora resident mainly tells staff and residents at Medicalodges, 1415 Maple St., about her life and her family.
"I tell them (the staff) to keep them quiet," she said with a smile. "And some people like to hear these stories."
Olson's memories span more than a century and date back to times of horse-drawn wagons, mud roads and "dreams of the West" that very few can relate to but often retell for her.
After all, the petite woman with pale blue eyes turns 108 on Monday.
Family, friends and staff at Medicalodges will celebrate Olson's longevity on Sunday with punch and a cake decorated with horses. All six generations of the family hope to attend the event.
With some coaxing and memory jogging from staff members, Olson recalled some of her earlier birthdays while growing up in Kansas City. Whenever Olson's memory fails her, her sharp sense of humor makes up for it.
"My grandma always brought little kids," she said. "And they each brought me a little present so I had a whole lot of presents, and that happened more than once, but I counted them and would go around and tell anyone that would listen how many presents I got."
For her upcoming birthday, Olson knows exactly what she wants: a horse.
"I don't know where I would keep it," she said. "I might find a place."
Born in 1904 as the oldest of five children, the hard worker and horse lover was raised by a grandmother who lived with her family after she left the south following the Civil War.
Olson was married in the 1920s and later had children Helen and Robert. Both her husband and son have died. She worked in a hospital for almost 20 years before establishing her own real estate business.
Steve Enright, 60, said his grandmother always enjoyed working with people.
"She would go to a lot of extremes to get people loans and to help them out," he said. "I was pretty proud of how she handled her business."
Olson said she likes to do things for other people "selfishly because I love it and get a kick out of it."
Despite her seemingly gentle demeanor, Enright, one of four grandchildren, said Olson was the law and the disciplinarian. She was bossy, he said with a laugh, and a "supervisor."
"She's a strong woman and always spoke her piece," he said.
Medicalodges activity director Sue Coleman said Olson is a joker and well-liked among staff and residents.
Resident and friend Marge Hale, 84, said it's because Olson is a loving person.
"She's really a great lady, and I really admire her," Hale said.
The former writer and poet now counts playing volleyball, bingo and dancing among her passions. She stays active cleaning her room and taking daily walks throughout the halls. Against the instruction of staff members, Olson often abandons her walker or ventures out of her wheelchair to explore and visit with her neighbors.
"In her mind, she doesn't need it and she still feels young," said Amanda Cooper, Medicalodges marketing liaison.
Enright said he thinks his grandma's long life can be attributed to her determination and genes. Several family members, including her grandmother, lived well into their 90s.
"I've just had one birthday after another," Olson said with the same smile she wore all day. "It's good but too many."
Copyright 2018 The Lawrence Journal-World. All rights reserved. This material may not be published, broadcast, rewritten or redistributed. We strive to uphold our values for every story published.