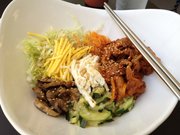 Say it, bee-bim-bahp. Fun, huh? In Korean, bap means rice, and bibim means mix. This filling, one-bowl dish has rice on the bottom, topped with mushrooms and julienned vegetables, your choice of meat and a fried egg. Mix, then eat.
Where to get it: O Café Korean Restaurant, 1530 W. Sixth St., Suite E
What you'll pay: $8.95 plus tax
Try it with: One of the little snacks they bring out before your meal. Might be radish or cabbage kimchi, or a mung bean pancake stuffed with seafood.
Also on the menu: Korean specialties such as bulgogi (marinated meat served on a hot skillet, with lettuce for wrapping) and Jja Jang Myeon (noodles and veggies topped with black soybean paste). Note: Some dishes are offered only one day a week.
Restaurant website: ocafelk.com
Copyright 2018 The Lawrence Journal-World. All rights reserved. This material may not be published, broadcast, rewritten or redistributed. We strive to uphold our values for every story published.