Kansas University junior runner Natalie Becker made her season debut for the KU women's cross country team and broke away from the pack for first place at the Haskell Invitational on Saturday at Haskell Indian Nations University.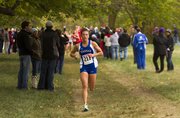 Becker, who sat out the Jayhawks' other meets due to an injury, finished the 5K in 18:25. Three other Jayhawks — Kelli McKenna (ninth, 19:19), Kennedy Schneider (10th, 19:28) and Jasmine Edwards (19th, 19:57) — also competed as individuals. Haskell's Talisa Budder earned the top time for the host squad in 18:40 for fourth place. The HINU women finished fifth in the team standings.
Ty Williams (third place, 25:17), Conner Day (10th, 25:53), Alex Galli (13th, 26:19) and Brandon Messerly (14th, 26:21) were among the Jayhawks who competed individually in the mens' 8K. The HINU men placed ninth in the team standings.
The KU men's and women's teams will travel to the Wisconsin adidas Invitational on Friday in Madison, Wis.
Copyright 2018 The Lawrence Journal-World. All rights reserved. This material may not be published, broadcast, rewritten or redistributed. We strive to uphold our values for every story published.