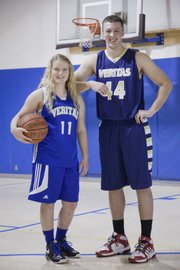 It never hurts to have a core of experienced players around which to build a basketball team. As Veritas Christian opens the 2012-13 season, both the boys and girls will be able to do just that.
Eagles boys basketball coach Gary Hammer has plenty of confidence in his starting five. The questions entering this season are: Which bench players will contribute, and how effective will they be?
With 6-foot-5 senior center Thomas Bachert, senior forward Andrew Currier, sophomore forward Caleb Holland, sophomore guard Micah Edmonson and freshman guard Chad Stieben in the coach's top five, Hammer thinks Veritas should build upon the success of last winter, when the Eagles went 15-9 and placed third at the Kansas Christian Athletic Association state tournament.
"I really like our starting five, and if our bench can come in and do a good job, I think we can have a really good year," the coach said.
Veritas will have size — 6-3 senior Bryce Boland and 6-4 junior Seth Phillips — and speed — junior Elijah Harvey and senior Andrew Harvey — off the bench. Seniors Andrew Jewell and Matt Meyer, as well as freshman Mark Weinhold, round out Hammer's bench options.
The strength of the team, the coach said, is in the middle, with Bachert roaming the paint and swatting shots on the defensive end. Hammer said the center is capable of putting up double-figure scoring and rebounding numbers, and if the Eagles get the ball in his hands, they have the perimeter players to compliment him.
As Kevin Shelton enters his ninth season coaching the Veritas girls basketball team, he is thankful to have four seniors.
Between forwards Kristen Finger and Ali Dover and guards Joy Brooks and Madi Bennett, Shelton thinks he might have the right mix to improve upon the Eagles' 7-17 mark last season.
"We're gonna put everything we have in these four seniors," Shelton said. "They've been through battles with us before, so we're gonna rely on them heavily this year."
The coach also is excited about having two young additions: eighth-graders Naomi Hickman and Tori Huslig.
"We're gonna have to take care of the ball together," the coach said, "and that's gonna fall directly on our seniors."
Both Veritas teams play today at the Shea Invitational, in Manhattan, against Chanute Christian.
Copyright 2018 The Lawrence Journal-World. All rights reserved. This material may not be published, broadcast, rewritten or redistributed. We strive to uphold our values for every story published.