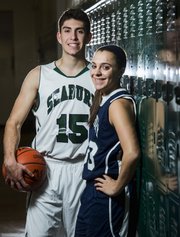 It might take a little time this winter for the basketball teams at Bishop Seabury Academy to reach their full potential.
Seabury's boys basketball season ended this past March in the Class 1A Division 1 state tournament, where the Seahawks lost in the first round, 51-50, to eventual champion Ashland. But coach Ashley Battles knows the school's move up to the 2A level won't hinder the team's chances of getting back to state nearly as much as an exodus of talent — namely junior wing Khadre Lane's transfer last spring to Free State.
The third-year coach said 2012-13 will be a rebuilding season, and 5-foot-10 junior combo guard Marcus Allen, who started two years ago as a freshman, is expected to lead the way.
"He's gonna be our primary weapon on offense and defense," Battles said.
Seniors Eric Shin, Brandon McCaffrey and Fischer Almanza, as well as junior Joe Simpson, will be expected to contribute, too. Almanza, a 6-foot forward, came off the bench last year. Now Battles expects him to start.
"He's just a hard-working, blue-collar-type of kid, likes to set screens, likes to grab rebounds," Battles said.
The Seahawks might also have an impact freshman in the mix. Battles said 6-foot Mito Owino plays inside and outside and has stood out at preseason practices.
The Seahawks will open the season Monday at Paola.
Seabury's girls basketball team won't begin the year at full strength, but once it gets there, first-year coach Keith Smith wants the program to take on a different look.
His plan: "We're going to be a lot quicker, more aggressive, have a lot more movement, and speed up the game a little bit."
The Seahawks already had three key returning seniors — point guard Alexa Gaumer, post Courtney Hoag and forward Sarah McDermott — in place for this season before landing a pair of transfers. Junior combo guard Mariah Smith joins Seabury from Shawnee Mission Northwest, and junior forward Emma Stilgenbauer comes in from Tonganoxie. As new students, they won't be able to start until January.
Coach Smith, in his first season leading a high school program (he coached AAU and club teams for 16 years), said the biggest challenge of having three new components is getting everyone to adjust.
"The girls who play all year round, of course, they're used to a pretty demanding practices and workouts," the coach said. "They've adapted quickly, and they're fine with it."
Smith expects to put a stronger team on the floor when his transfers are eligible and said the next step will be improving the bench, so the Seahawks can maintain an up-tempo style.
The Seabury girls' season begins today at the Baileyville B&B; tournament.
Copyright 2018 The Lawrence Journal-World. All rights reserved. This material may not be published, broadcast, rewritten or redistributed. We strive to uphold our values for every story published.