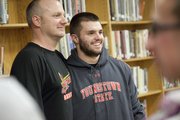 For those who know him, the big speech that followed Lawrence High senior Shane Willoughby's Tuesday signing with Youngstown State University hardly came as a surprise.
"Thank you, everyone, for coming," said a sheepish Willoughby, who was decked out in a dark gray hoodie with the words of his chosen school in Youngstown, Ohio, plastered in bright red on the front.
Fortunately for the Lions, Willoughby's play on the baseball diamond during the past three seasons has been much more impressive than his public-speaking skills.
"He's a pretty special kid," LHS baseball coach Brad Stoll said of his senior shortstop. "He has started for us since his freshman season, and he was the first one to do that. His athleticism is pretty hard to match. He can catch, he can pitch, he can play center field. He can pretty much do anything you ask him to do, and he can do it all well."
Willoughby said he hoped he saved his best season with the Lions for last. The potential for that goal to come true was made easier Tuesday when he put an end to the long and stressful recruiting process that came down to two schools — Arkansas State and Youngstown State. Willoughby said he chose YSU because of the school's baseball facilities and the overall vibe he got from those associated with the program. He made his mind up Thursday and made it official Tuesday when he signed his national letter of intent in the LHS library in front of dozens of friends, faculty, family members and teammates.
Willoughby likely will play shortstop in college, but he and Stoll said their best memory of his LHS days came during the regional championship game last spring, when Willoughby, the pitcher, teamed with his older brother, Troy, to shut down Olathe Northwest and send the Lions back to state.
"Winning regionals last year was incredible," said Shane, who struck out nine of the 13 batters he faced in four innings of relief. "But hopefully (the best memory) will be this spring."
Willoughby said he did not think much about playing Div. I baseball when he began his LHS career, but realized it was a possibility after a dramatic increase in attention from recruiters after a stellar summer that followed his sophomore year.
From that point on, he believed signing with a four-year school could become a reality. Now he's a Penguin.
"It looks mean," said Willoughby of his new mascot. "(Youngstown State baseball coach Steve Gillispie) always says that penguins are snacks for a lot of things in the wild when they're on their own, but together they're a pretty tough bunch."
Sounds fitting for a guy who has played through injuries and inconveniences throughout his high school career. And even more fitting for a guy who has aspirations of playing beyond college.
"If you look at how much he improved in four years here, it's exciting to think about what he'll be like four years from now after playing college baseball year-round," Stoll said. "I think anything's possible for the kid."
Copyright 2018 The Lawrence Journal-World. All rights reserved. This material may not be published, broadcast, rewritten or redistributed. We strive to uphold our values for every story published.