Photo Gallery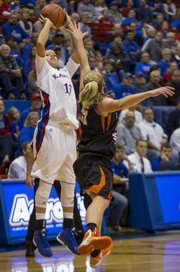 Kansas Women's Basketball vs. Idaho State
Related document

KU-Idaho State women's box score ( .PDF )
More interested in becoming a finished product than winning a season opener, members of Kansas University's women's basketball team had self-critiques instead of flowery reviews following a 52-36 victory over Idaho State University on Sunday afternoon at Allen Fieldhouse.
Even though the Jayhawks limited visiting ISU to 22-percent shooting and held the Bengals scoreless for nearly 10 minutes in one putrid stretch, few — if any — moments are going to make the Jayhawks' 2012-13 highlight reel. Accordingly, KU coach Bonnie Henrickson wasn't about to sing her team's defensive praises.
"Offensively, Idaho State struggled, and that was at times because of us, at times not because of us," Henrickson said.
The ninth-year KU coach credited the Bengals (0-2) for pushing the Jayhawks around, holding KU to 31-percent shooting (20-for-65) despite the Jayhawks' 22 offensive rebounds, which led to only 17 second-chance points.
After Idaho State (0-2) tied the game at 11 on a lay-up by junior forward Cydney Horton with 8:15 left in the first half, the Bengals didn't score again until the 18:27 mark of the second half.
A 16-0 KU run began with a quick 6-0 spurt in just more than a minute. Monica Engelman drilled a jumper, Bunny Williams gathered her own miss and converted a lay-up, and Natalie Knight knocked down a jump shot on a pass from Angel Goodrich — setting up a 12-0 run to close the half.
In the final 4:05, Goodrich scored on a runner off the glass from the right side, and Tania Jackson contributed a pair of buckets to give Kansas (1-0) a 23-11 halftime lead against the struggling Bengals.
In an excruciating end to the first half, ISU suffered six turnovers, one coming on a shot-clock violation, and missed eight straight field goals, including a Lindsey Reed three-pointer that stuck between the backboard and the rim and a buzzer-beating air-ball runner from Kaela Oakes in the final seconds before halftime.
The Bengals hit just five of their 27 first-half shots (18.5 percent) and turned the ball over 10 times.
Still, Goodich (seven points, three assists) labeled KU's defensive effort "so-so," pointing at herself for letting her feet get stuck instead of sliding and reaching too much. Overall, the senior point guard said Kansas (No. 25 in the USA Today coaches poll) could have done much more defensively against the Bengals, who turned the ball over 19 times, leading to 19 KU points.
"They could see the floor a lot at moments, and we've got to be able to communicate on the defensive end," Goodrich said. "I felt like we were just a little quiet."
Engelman (10 points, four rebounds) wasn't giving KU much credit for the Bengals' struggles.
"We, of course, could've been more consistent with our ball pressure and stuff like that," Engelman said, "but I think at times when we were getting up in them we were good."
KU extended its game-deciding run and lead with a jumper by senior forward Carolyn Davis (10 points, eight rebounds in 18 minutes) and a pair of Engelman free throws in the opening 1:22 of the second half.
ISU finally put an end to its 9:48 drought, which included eight turnovers and nine straight missed shots, when senior forward Ashleigh Vella banked in a three pointer from the left side.
Bengals coach Seton Sobolewski said jitters likely contributed to the unpleasant offensive dry spell, and his team might have been more prepared for KU if it could have faced some mid-major programs in preparation to ease into the season (ISU lost at Kansas State on Friday).
"OK, we're definitely in the deep end of the water," the coach said. "Start swimming."
The Jayhawks hit seven of their 17 shots and turned the ball over three times during Idaho State's scoreless stretch.
Henrickson wasn't excited about the 16-point victory.
"The good news is we won," she said. "The bad news is I feel certain it's gonna look worse on film than it did live, and it looked real bad live on most possessions."
The Jayhawks will play host to Southeast Missouri State (1-0) at 8 p.m. Wednesday.
Copyright 2018 The Lawrence Journal-World. All rights reserved. This material may not be published, broadcast, rewritten or redistributed. We strive to uphold our values for every story published.