Grant Goodman says he has no idea why the federal government keeps nosing around in his mail.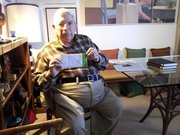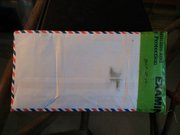 The retired Kansas University professor on Saturday showed the Journal-World a recent letter he had received from a friend in the Philippines. It apparently had been opened, then re-closed with green tape bearing the seal of the U.S. Department of Homeland Security and a message that it had been opened by Customs and Border Protection.
The letter, the tape, and the circumstances all appear exactly the same as when it happened for the first time seven years ago. The only difference was a calendar date written on the tape: October 27, 2012.
"It's eerie, because this is practically the same thing again," Goodman, 88, a KU professor emeritus of history, said. "It makes you very uneasy."
The letter is from the same person, too: a former university colleague . Apart from a handwritten letter, the envelope contained nothing more than a few Filipino newspaper clippings. Nothing, Goodman said, that he could imagine would be of interest to Homeland Security authorities. He said the letter was similar to others he receives each month.
The U.S. government has been concerned with Muslim insurgents in the Philippines, but Goodman said his correspondent — a devoutly Catholic Filipino history professor in her 80s — was an unlikely suspect to be connected to such causes. Goodman declined to reveal her name, saying he feared stirring up trouble for her.
In 2005, the story drew enough national media attention that Gov. Sam Brownback – then a Kansas senator – spoke up to affirm the legality of the federal government's search of international mail. Indeed, the U.S. Customs and Border Protection website clearly says that The Postal Service sends all mail arriving from abroad to the CBP for examination.
Goodman said he came forward to inform the public that these mail searches are still happening and to find out if others have had the same experience. He said the question that intrigues him most is, "Why this letter?"
"If there is some overriding security concern, please tell us," he said.
A spokesman for Customs and Border Protection said then that authorities would not discuss the details of Goodman's case or the criteria for opening letters.
As it happens, Goodman is in a unique position to understand the invasion of privacy implied by opening letters. He became familiar with it in World War II, as a U.S. Army lieutenant required to censor the mail of men under his command.
"That's an awful experience," he said. "And I hope the people at Customs and Border Protection feel the same way."
Copyright 2018 The Lawrence Journal-World. All rights reserved. This material may not be published, broadcast, rewritten or redistributed. We strive to uphold our values for every story published.