Wichita — A moment after leaping, Steven Hill closed his eyes to focus on his form.
The Lawrence High senior says what happened next during his first long-jump attempt Friday at the Class 6A state championships was hard to explain. Muscle memory took over. All his parts seemed to move in exactly the right place.
"It just felt flawless," Hill said.
Photo Gallery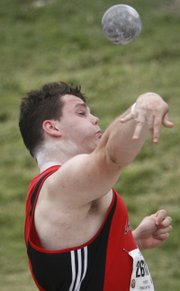 2012 Class 6A state track meet (Day 1)
The senior didn't need to wait for the official results to celebrate.
He leapt out of the sand, screamed out in satisfaction, then ran to give each of his teammates a high-five.
After being seeded eighth coming in, Hill posted a jump of 21 feet, 10 1/2 inches to finish second in his final high school meet.
He also set a new personal record by four inches.
"I'd never felt a jump like that before," Hill said. "When I did it, it just felt so good. I couldn't believe it."
Hill's long jump was the highlight of a high-scoring first day for the Lawrence High boys, who finished the first day in first place.
The Lions' 32.5 points were nearly double what they scored during the two-day meet a year ago (17 points).
"We had some kids really step up today and had a few minor disappointments," LHS coach Jack Hood said. "But luckily, they still found a way to score points."
Hill also was runner-up in the triple jump, as his leap of 45 feet, 11 inches also set a new personal record.
"That's a heckuva day," Hood said. "That's what you look for out of seniors."
Blake Hocking also posted two top-three efforts, though his second-place finish turned out to be a letdown.
The senior took silver in the shot put with a throw of 53 feet, 9 1/2 inches.
"Shocked," an emotional Hocking said. "It's (my) first loss in two years. Absolutely shocked."
Hocking's last defeat in a high-school shot put event was during state his sophomore year.
Blue Valley West's Brian Beckmann, who fouled on five of his six attempts, ended up winning with a throw of 55 feet, 7 3/4 inches.
Hocking said he never felt comfortable with the shot put he was using. After throwing at every practice and every meet with the same shot put, Hocking — like all the competitors — had to use the shot puts provided by the state meet.
"I like big shots, and they're a little small," Hocking said. "And they just kept slipping. I hate to make excuses (though). I'm at a loss for words."
Hocking did show improvement by taking third in the discus after not qualifying for state in the event a year ago.
Copyright 2018 The Lawrence Journal-World. All rights reserved. This material may not be published, broadcast, rewritten or redistributed. We strive to uphold our values for every story published.