Lucas — The wacky folks in Lucas have always been known for their keen sense of humor.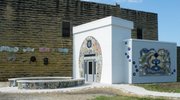 The town of 407 residents is home to the "Garden of Eden," which features the peculiar work of S.P. Dinsmoor. He was a retired schoolteacher and Civil War veteran who sculpted 113 tons of concrete into various religious and political figures in his backyard.
In recent years, it has become known as the grassroots art capital of Kansas, in large part because it is home to the Grassroots Art Center dedicated to 20th-century Kansas grassroots folk art.
But now, Lucas can add one more notch in its quirky belt: The town has turned to bathroom humor and created a monument making Lucas home of the largest, most blingy toilet in Kansas.
The town, which is about 45 miles west of Salina, has been working on its $100,000 public restroom project for the past four years, and it is almost complete.
Bids are currently being taken on e-Bay for the honor of a first flush, which is scheduled for 3:21 p.m. on June 2 in Lucas. As of late last week, 19 bids had been received; the highest was $110.
The town has scheduled activities throughout the day on June 2, beginning at 10 a.m., to celebrate.
Why a toilet?
Several years ago, some of the town's leaders gathered to discuss the one thing Lucas needed the most: a public restroom.
"The Garden of Eden has none and there were no accessible public restrooms on Main Street, except in the arts center," said Rosslyn Schultz , the Grassroots Art Center director. So, town residents constructed a massive building designed to look like a large toilet.
The exterior of the giant toilet bowl is sunken so people can sit outside and talk. A giant toilet paper roll sits outside as a conversation starter.
The giant toilet's 14-foot-tall mosaic lid is up.
"Our lid is always up," Schultz said. "This was done by volunteers and took thousands of hours to put together."
And every wall is decorated. A chandelier made from the bottom of wine bottles is only one of the highlights.
Donations for the project have come from across the nation. All but $3,000 for the project has been raised.
"We are hoping that it floats around on the Internet as one of those weird toilets you need to see," Schultz said. "That is our ultimate hope. We want people talking about it."
Copyright 2018 The Lawrence Journal-World. All rights reserved. This material may not be published, broadcast, rewritten or redistributed. We strive to uphold our values for every story published.