Olathe — Lawrence High freshman Megan Sumonja dominated Topeka High's hitters for four of the six innings she pitched during Tuesday's regional softball game at College Boulevard Activity Center.
Unfortuately for Sumonja and the Lions, the Trojans did all the damage they needed in the other two innings, and LHS ended its season with an 8-5 loss.
"That's what it's been the whole season," LHS shortstop Marly Carmona said. "We've had one or two bad innings that have hurt us."
Photo Gallery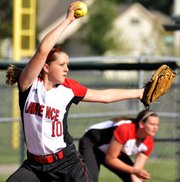 2012 Class 6A softball semifinal: Lawrence High vs. Topeka
Topeka (15-6) scored five runs in the second inning and three more in the fourth to take an 8-0 lead into the fifth. At that point, the possibility for a shortened game entered the picture and the Lions (5-16) looked to be done. They weren't. LHS scored four runs in its half of the fifth to cut the gap to 8-4, but they could not claw closer.
"You can't allow yourself to get into an 8-0 hole and decide in the top of the fifth that you're gonna go to work," LHS coach Nick Wood said. "It was great to see our girls show a little bit of fight late, but we were in too deep of a hole."
Andrea Mills kicked off LHS's big inning with a leadoff double. Mills scored when Sumonja reached on a throwing error and Kenzie Garvin walked. Carmona followed by ripping a double to the fence that scored Sumonja and Garvin, and Carmona scored on an RBI-groundout by Morgan Byrn.
"We had heart," Carmona said. "We definitely didn't want to get run-ruled, and we had some girls step up and make sure that didn't happen."
Although they spent most of the season struggling at the plate, LHS recorded 10 hits in its final game of the season and actually out-hit the Trojans. The Lions also left six runners on base, making the two big innings for the Trojans more than enough. The Lions opened the seventh with back-to-back hits, but a base running blunder killed the potential rally.
Carmona (3-for-3, double, run, two RBIs), Kristen Gile (2-for-4, RBI) and Lauren Byrn (2-for-4) led LHS at the plate, and Sumonja capped off her solid freshman season by striking out four in the loss.
"This was a great experience for her," Wood said. "We asked a lot of her this year, and she really came through. She's only going to get better."
The final inning was delayed about 30 minutes when Topeka High left fielder Nicole Smith crashed into the fence while chasing down Byrn's double. Smith was loaded onto a stretcher and was taken away in an ambulance. Before she left the field, the Lions raced from their dugout down the first-base line to the gate in left field to offer their best wishes.
"That's who we want to be," Wood said. "We want to be a program that's known for great character, and it was important that our girls went out there and supported their team in that moment."
Copyright 2018 The Lawrence Journal-World. All rights reserved. This material may not be published, broadcast, rewritten or redistributed. We strive to uphold our values for every story published.