This season hasn't been easy for first-year head coach Janna Kepler and Lawrence High's girls soccer team.
The Lions often have been knocked around on the pitch and Tuesday night's 7-0 home loss to Shawnee Mission West was no different.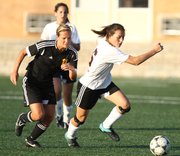 Molly Norburg scored for the Vikings in the second minute and roughly midway through the first half, SMW (10-4-2) had added goals from Chloe De Pena, Jordan Hairgrove, Jess Hole and Morgan Mauck to take a 5-0 lead.
Another score from Hole in the 33rd minute and an early second-half goal from Sydney Miramontez gave the visitors a seven-goal victory.
It was the eighth time LHS (2-13) has been shut out in 2012 and Lawrence's ninth loss by four or more goals.
Senior captain Laura Falkenstien said the Lions are doing their best to remain positive.
"It's definitely difficult," Falkenstien said. "Keeping the girls working hard and working with each other isn't always easy."
Amid their struggles, Kepler said now isn't a time for new tactics.
"In times like these, when you go back to practice you have to work on fundamentals," the coach said, "the things that the girls can control, the things that they can do well when they're thinking."
One of just three seniors on the team — Lauren Fleming and Meredith Warinner being the others — Falkenstien said Lawrence's younger players are at least picking up lessons in the difficult Sunflower League that will make them better down the line.
"They learn from mistakes every game," the senior said.
They find ways to make positive plays, too. Juniors Abby Wilson and Ella Magerl and sophomores Danielle and Addison Campbell did their best to thwart SMW when they could, and other times slowed the Vikings down by disrupting passes. For the most part, however, West was too precise and overpowering for LHS to do anything about it.
The Lions only managed two shots (one from Warinner and the other from Falkenstien) and they both came on free kicks in the second half.
Meanwhile, the Vikings took 41 shots, putting 28 on goal. LHS sophomore goalkeeper Alex Ewy saved 19 of them and two others went off the post.
Kepler said the sophomore keeper, who also played as a freshman, knows this season is a learning experience and Ewy has made a lot of gains in her two seasons.
"Last year I think that there were some times where the emotions of being back there and being the last person got the best of her," Kepler said. "This year, it hasn't been that way. She's been able to bounce back up and get after it again."
Falkenstien agreed that Ewy has grown as a player with all the shots she has faced.
"We'd easily get mercy-ruled without her," Falkenstien said. "She makes great saves every game."
The Lions close their regular season at home on Friday against Topeka.
— A previous version of this story has been updated.
Copyright 2018 The Lawrence Journal-World. All rights reserved. This material may not be published, broadcast, rewritten or redistributed. We strive to uphold our values for every story published.