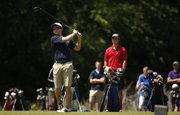 When Elijah Penny started his golfing career at Veritas Christian as a freshman, he frequently shot in the 120s. Before this season, he'd never scored below 100.
That's why the senior was more than happy with his final tournament Monday, when he carded a 92 — one shot off a career-best —to finish ninth at the Kansas Christian Athletic Association state meet held at Eagle Bend Golf Course.
"It was good for me to know," Penny said, "my work paid off eventually."
After shooting a personal-record 91 in his previous tourney, Penny's 92 tied for the best score on his team.
His round was highlighted by a birdie on the par-5 ninth. He shot 46 on both the front and back nine.
"He's a consistent guy. Character-wise, he's our leader," Veritas coach Derek Atkinson said. "Nothing really fazes him. For him to play well at the end here is really encouraging."
Veritas' Matthew Myers also notched a 92, finishing in 10th after the tiebreakers were figured.
"What was disappointing was that I struck the ball really well today," Myers said. "It just seemed like every shot was a good shot that hopped out of bounds. Then, I didn't make a putt all day."
Like Penny, Myers also had a career-best round in his last tournament with an 81.
Part of the reason for Myers' frustration was the fact that, during a practice round Saturday at Eagle Bend, he'd shot an even-par 36 on the final nine holes.
"To come out here and shoot a 92 is just ridiculous," Myers said.
Myers teed off with the first group of the day, which boasted the four top-ranked golfers.
"It's hard when you're playing with the guy that's going to win the tournament, and you know that he's playing with you," Atkinson said. "It's one of those things where you have to play your own game, and I think he's starting to figure that out — not worry what's going on around you, but focus in on what your game's giving you that day."
First-year player Eric Shin posted Veritas' third-best score, finishing with a 109.
"Every time he's picked up a club, he's improved," Atkinson said.
Veritas finished third in the team scoring with a 404. Christ Prep was first (323), while Sunrise Academy was second (373).
Penny ended up finishing in the top 10 for the first time in his career. He received his own individual medal following the tourney.
"It was a lot of fun," Penny said. "I enjoyed the season. It definitely was a great day to end it on."
Copyright 2018 The Lawrence Journal-World. All rights reserved. This material may not be published, broadcast, rewritten or redistributed. We strive to uphold our values for every story published.