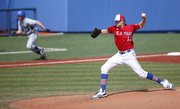 Kentucky Derby winner I'll Have Another wasn't the only longshot to stand in the winner's circle late Saturday afternoon.
For Air Force Academy left-hander Ben Bertelson, a junior from Midland, Texas, the winner's circle on which he stood was the Hoglund Ballpark pitcher's mound. Bertelson soft-tossed his way to a career-best performance, defeating Kansas University, 3-0, with an eight-hit shutout.
Repeatedly baffling Kansas hitters with full-count change-ups, Bertelson got four of his seven strikeouts on called third strikes. He walked two and hit one batter on his way to his first shutout since ... since when?
"I honestly don't know, sir," Bertelson said.
I'll Have Another went off at 15-to-1. The odds of Bertelson pitching a shutout for Air Force (13-33) against Kansas (19-28) were much longer than that.
He entered the game with an 0-8 record this season and a 2-16 career mark. He never had pitched a shutout for Air Force. Might his last have come in high school?
"Probably," he said. "But I'm sorry, I don't remember. I don't look at stats."
Here's a statistic: The shutout enabled Bertelson to trim his season ERA from 7.82 to 6.60.
For an instant, Bertelson appeared to have lost his shutout when a run went on the board for Kansas in the sixth inning. The run was erased when Air Force appealed that Kevin Kuntz missed third base when scoring from second on Alex DeLeon's single to center, and the umpire upheld the appeal.
"I did touch the bag," Kuntz said. "I hit the front-left corner with my right foot. It was devastating for him to say I didn't touch it."
Instead of having one run in, one out and two runners on base, the ruling meant the shutout was preserved, and Bertelson needed one more out to strand the remaining base-runner.
In Big 12 confernce games, Kansas ranks last with a .219 batting average, .266 slugging percentage and a .301 on-base percentage, at times getting dominated by hard-throwing Big 12 pitchers.
Facing Bertelson required a distinctly different approach, and the hitters weren't able to adjust.
"He threw nine guys 3-2 change-ups for outs," Kansas coach Ritch Price said. "You don't see that much in our conference. They work off the fastball, take a professional approach. He pitched backwards. When you don't have the velocity, that's a good strategy. He pitched a smart game."
Kansas freshman left-hander Wes Benjamin (2-7), chosen in the 48th round by the New York Yankees last June, took the loss and limited the Falcons to two earned runs in 52⁄3 innings.
Kansas returns to the Hog today at 1 p.m. against Missouri State.
Copyright 2018 The Lawrence Journal-World. All rights reserved. This material may not be published, broadcast, rewritten or redistributed. We strive to uphold our values for every story published.