Lawrence High boys tennis coach Chris Marshall has never been one to get overly concerned with dual results, what with all the postseason events — league, regionals, state — being played in a tournament format.
So when the Lions lost a home dual, 5-3, to Mill Valley on Wednesday, Marshall didn't mind too much. Besides, the only Lions in action who will be playing Friday at a Class 6A regional at Leavenworth — No. 1 doubles team Pace Leggins and Matt Grom, and No. 2 doubles team Randy Walter and Matthew Mikel — both won their matches against the Jaguars.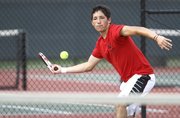 A victory for Leggins and Grom was in doubt early on as they faced Mill Valley's Joe Vincent and Daniel Fleming. The LHS duo trailed 3-0 before winning a game. The Jags led, 5-2, when Marshall decided to get video of his No. 1 doubles team with his tablet. Considering Leggins and Grom won six of the next seven games to claim a 8-6 victory, Marshall joked that the video was the key.
"Maybe they're future movie stars," the coach said, "or maybe I should've been recording them all year long."
Grom wasn't buying into that theory after he and Leggins won, 8-6.
"I thought he was playing games," Grom said of Marshall. "He gets bored watching me."
In the midst of the Lions' push, Vincent served a ball into Fleming's back.
Said Leggins: "That got us to relax a little bit."
LHS took the last three games of the match, and Leggins and Grom responded by running toward each other for a celebratory jump and bump, a move Leggins said they had done before only at practice.
After they finished eighth at the Sunflower League last week, Leggins was happy to have another match before regionals, which begin Friday morning at Leavenworth.
"Obviously, this gives us a confidence boost," Leggins said.
Grom said their expectations for the regional, where the top six finishers move on, are high.
"We expect to go to state," Grom said. "Anything less … that's not acceptable."
A senior, Grom gave LHS its third win of the dual with an 8-7 (8-6) tiebreaker victory over Eric Howes in No. 3 singles.
The Lions' typical top two singles players, Thomas Irick and Victor Andrade, were unavailable because they used up all their regular-season participation. Walter filled in for Irick at No. 1, and lost, 8-5, to Connor Mills. Leggins lost to Paul Dresvyannikov, 8-1, in No. 2 singles.
Marshall said he knew the Lions would be playing at a disadvantage, but he liked that seldom-used players such as seniors Jeremy Dean and Keenan Wycoff got to play in a varsity dual.
Copyright 2018 The Lawrence Journal-World. All rights reserved. This material may not be published, broadcast, rewritten or redistributed. We strive to uphold our values for every story published.