Texas Tech starting pitcher Duke von Schamann limited Kansas University's baseball team to two hits and one run in nine innings Friday as the Red Raiders beat the Jayhawks, 3-1, at Hoglund Ballpark.
Photo Gallery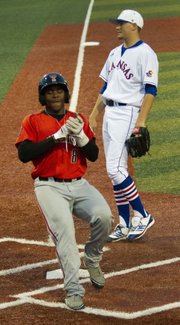 Kansas baseball vs. Texas Tech
Kansas starter Frank Duncan matched his Texas Tech counterpart for seven innings, and the score was tied after two. But Duncan gave up the go-ahead run on a wild pitch during the eighth inning, finishing the night with a career-high eight strikeouts while allowing two runs on six hits.
Kevin Kuntz was the only KU player to score, on a RBI single by James Stanfield in the first inning.
Zac Elgie had the Jayhawks' other hit.
Kansas (10-15 overall, 0-4 Big 12) will play the second game of the three-game series against Tech at 2 p.m. today at Hoglund Ballpark.
Copyright 2018 The Lawrence Journal-World. All rights reserved. This material may not be published, broadcast, rewritten or redistributed. We strive to uphold our values for every story published.