Photo Gallery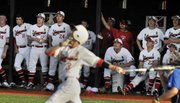 LHS baseball vs. Olathe Northwest
Lawrence High's baseball team outhit Olathe Northwest 10-4 but dropped a 3-2 decision on Thursday at LHS.
Garrett Cleavinger (1-1) took the loss despite striking out nine batters in five innings.
The Lions trailed 3-1 entering the seventh but came up one run short.
"The bottom line is waited way too long to compete," LHS coach Brad Stoll said. "We waited until the seventh inning, and that's very disappointing and very unlike us. To their credit, they had some base hits in key situations early and really didn't do much the rest of the game. The beautiful thing is we get to go back out Saturday.
LHS (2-2) will play Saturday at Shawnee Heights.
Copyright 2018 The Lawrence Journal-World. All rights reserved. This material may not be published, broadcast, rewritten or redistributed. We strive to uphold our values for every story published.