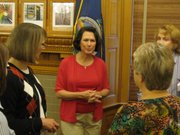 Topeka — Kansas first lady Mary Brownback on Tuesday announced the winners of $13,000 in Kansas Book Festival grants.
"These grants are designed to further the Kansas Book Festival's goals of promoting literacy and encouraging a life-long love of reading," Brownback said. "These grants will help improve local and school libraries across the state."
The grants will go to 16 libraries in Walton, Great Bend, Thayer, Bird City, Gypsum, Iola, Westmoreland, El Dorado, Baileyville, Towanda, St. Francis, Holton, Sedgwick, Atchison, Argonia and Stafford.
The grants were funded through money raised by last year's book festival and corporate sponsors, according to the governor's office.
The 2012 Kansas Book Festival will be Sept. 15 at the Kansas Museum of History. It is a free, day-long event.
Copyright 2018 The Lawrence Journal-World. All rights reserved. This material may not be published, broadcast, rewritten or redistributed. We strive to uphold our values for every story published.