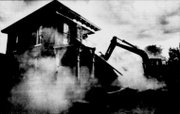 From the Lawrence Daily Journal-World for June 27, 1987:
In spite of continued opposition from the Old West Lawrence Neighborhood Association and the Lawrence Preservation Alliance, bulldozers and backhoes showed up early this morning and began tearing down eight houses in the 800 block between Tennessee and Kentucky streets. The demolition, denounced by one neighbor as the "wholesale murder" of a group of historic houses, was defended by Douglas County Bank officials as their only reasonable course of action pending a planned expansion of the bank. The Lawrence City Commission earlier this year had approved the bank's request to rezone the area. "We are disappointed, obviously, and dismayed at the pre-dawn assault by the bank. It's clear to us that they're a rotten neighbor," said Steve Lopes, president of the OWL group. Attorney John Lungstrum, representing the bank, objected to this characterization. The demolition permits had been issued on Thursday, he said, so to portray the Saturday morning demolition as a pre-dawn assault was "dramatic language to catch the attention of the listener." Neighbors, having failed earlier to fight the rezoning, had been attempting to delay the work in order to allow people time to arrange financing for moving the houses, but the bank's board of directors reportedly had not wanted to assume the liability of such a project and also had doubted that interested individuals would be able to raise the funds quickly enough. (For the next few weeks, the Journal-World editorial pages were ablaze with angry comments for and against the demolition.)
Copyright 2018 The Lawrence Journal-World. All rights reserved. This material may not be published, broadcast, rewritten or redistributed. We strive to uphold our values for every story published.