Kristen Samp didn't know it, but her time as a teaching professional at Lawrence Country Club is about to take her varied golf background in a new direction.
Currently in her fourth year as a Class A teaching pro at LCC, Samp played collegiately at the University of Missouri and professionally for 11 years before eventually settling in Lawrence in 2009.
She has worked with countless golfers since joining the LCC staff. Among them were a couple of Lawrence High Lions, Quillen Eichhorn and Campbell Drake. When the two Lawrence teammates found out Mike Lewis would be stepping down as LHS girls golf coach, they reached out to Samp and told her she should apply for the job.
Not wanting to let the girls down, Samp said she would look into it, found an online application, filled it out and submitted it.
It didn't take LHS athletics director Ron Commons long to determine Samp was the obvious choice.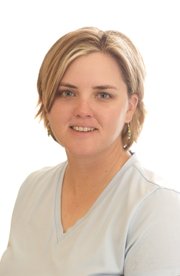 "We feel her teaching background, from LPGA players to junior programs at LCC, will be a great asset in helping our team reach the next level of play," Commons said. "We are looking forward to having her as part of our coaching staff."
The new gig will be a fresh experience for Samp, who has helped college teams in the past but has never had an official position with any program. She anticipates coaching a high school team will be a change of pace.
"Certainly the level of play is different," Samp said. "When you're at a college, you're pretty serious about it."
At the high school level, she pointed out, players have different motivations for competing.
"Some of them are doing it because they love golf, and some are doing it because they need things to put on their résumé, which is a very acceptable, valid reason."
On the varsity level, LHS has an experienced group coming back. Eichhorn and Drake, as well as Attie Pennybaker, Anna Wright and Abigail Schmidtberger, helped the Lions finish ninth at the 2011 Class 6A state tournament.
"There are some very talented players returning," Samp said, adding she would like Lawrence to return to state and contend this fall.
The new coach hopes to impart much of her golf knowledge and said a lot of that will come by sharing her tournament experiences from her days in the LPGA and on the LPGA Futures tour, as well as the college level.

"A lot of them have very good golf swings," Samp said of the returning LHS players. "They just need to be able to keep those swings and improve at tournaments."
Copyright 2018 The Lawrence Journal-World. All rights reserved. This material may not be published, broadcast, rewritten or redistributed. We strive to uphold our values for every story published.