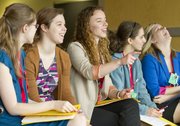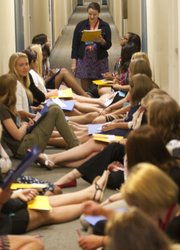 The 250 or so girls were there to form governments, vote for leaders and create laws.
But the chatter in the early stages of the 73rd annual Sunflower Girls State hinted that the civic-minded teens would also be having some fun during the six-day event.
"OK, we need a mischief-maker," said one member of the fictional city of Kaskakia, meeting on the seventh floor of Ellsworth Hall on the Kansas University campus.
For pranks, of course.
"I had no idea at first what this was," said Kerrie Leinmiller-Renick, who just finished up her junior year at Free State High School. "I expect a lot of fun."
The event invites girls from the across the state who have finished their junior year of high school to gather for a wide variety of government-related activities.
It would be a chance to learn about state politics and add another line on the resume and college applications, said Ashyln Evans, also a Free State senior-to-be. Evans has been involved in a Model United Nations program through her school for years, and was encouraged by her mom, who also attended Girls State, to sign up.
Evans and the other girls will vie for a wide variety of elected positions through the week. She's considering a run for lieutenant governor.
Raquel Dominquez, a Bishop Seabury Academy student, was thinking about running for one of the supreme court justice positions. Today, she'll be taking a bar exam of sorts to make sure she'll qualify. It fits in line with her career goal of becoming a lawyer.
Dominquez said she expects a tough race for the position, but "it'll be a great experience either way."
Dominquez decided to attend Girls State after a recommendation from a friend who attended the program a couple years ago.
"It opened a lot of doors for her," Dominquez said.
Copyright 2018 The Lawrence Journal-World. All rights reserved. This material may not be published, broadcast, rewritten or redistributed. We strive to uphold our values for every story published.