If members of Lawrence High's girls basketball team never again have to think about the 2011-12 season, that would be fine with them.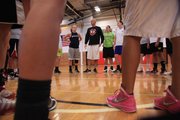 The Lions hope the coming weeks will help them erase their 6-15 record from their memories as they focus on the future. A busy summer for LHS began this week with camp and summer league games, and will continue into July with workouts, as well as more games and tournaments. Lions coach Nick Wood knew the players would have to endure a difficult season, as LHS put a largely inexperienced group on the floor.
"Last year was a big learning experience for us, and part of that learning experience hurt at times," Wood said. "That's gonna help us down the road. It's not something we want to dwell on by any means."
Forward Kionna Coleman, a rising junior, said she and her teammates aren't interested in using this past year as fuel for motivation.
"I personally try not to talk about it," Coleman said with a laugh, "but there are those things I look back on and see I have improved on from last season."
The same could be said for the Lions' core group of returning varsity players: seniors Bri Anderson, Monica Howard, Emma Kelly, Kylie Seaman and Anna Wright, junior Coleman and sophomores Marissa Pope and Jolana Shield.
A week into the summer, Wright said Pope already looks like a different player.
"She used to be a really good ball handler," Wright said of the LHS point guard, "now I feel like she can take on like three people. She's really grown a lot."
During the four days of camp, it was up to the returning players to give the newcomers and less experienced Lions advice and encourage them when they made good plays. Coleman said the younger players improved throughout the camp sessions and started to feel like they were part of the team.
"They've kind of stepped out of their shells," Coleman said. "The first couple days they were shy."
Wright said camp helped both experienced and inexperienced players get back into basketball mode as they worked on all the little things, from ball handling to proper spacing in transition. Through every drill, the driving purpose was turning LHS into a better program.
"We have a lot of good girls on our team right now," Wright said, "and I feel like if we keep working hard we can really be good this year."
Now that most of the girls have gone through a varsity season and played against the talented teams of the Sunflower League, Wood said the Lions know they have to raise their level of play to be more successful.
Having 26 players attend camp, the coach added, was a positive sign.
"That shows me that there's a lot of buy-in and they're committed to getting better," Wood said, "so that's exciting."
Copyright 2018 The Lawrence Journal-World. All rights reserved. This material may not be published, broadcast, rewritten or redistributed. We strive to uphold our values for every story published.