Topeka — Kansas University officials on Tuesday provided details about two major initiatives, but couldn't say which was the school's top priority when seeking funds from the Legislature and Gov. Sam Brownback.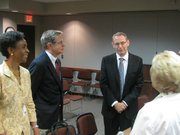 "Is this No. 1?," asked Kansas Board of Regents Chairman Tim Emert after KU outlined its proposal for creation of a new institute focused on the development of new drugs.
"This is one of them," Provost Jeff Vitter said.
The board was hearing from regents universities on their enhanced budget proposals.
Emert said if the schools and regents don't prioritize the budget requests, "someone else is going to prioritize for us."
The regents plan to work more on the budget requests during its retreat next month and then will submit a higher education funding proposal in September.
KU's two major requests are crucial, school officials said.
One is a $2.5 million per year appropriation to support what would be called the Kansas Institute for Translational Chemical Biology.
The institute would combine the work of pharmacists, biologists, chemists and engineers to discover, develop and commercialize new drugs and disease treatments, Vitter said.
"It is a key part of our strategic plan, promoting well being and finding cures," Vitter said.
He said the effort would solidify KU's high-ranking pharmaceutical school, help maintain the school's membership in the Association of American Universities, and increase the number of companies partnering with KU.
Regent Kenny Wilk suggested that KU add more detail to the proposal. "Give us a vision of what it will look like," he said. "If we do this, what will it look like in 10 years?," he said.
KU also is seeking $30 million to help construct a new $75 million medical education building at the KU Medical Center in Kansas City, Kan.
Steven Stites, interim executive vice chancellor and executive dean of the KU Medical Center, said the current medical education building, opened in 1976, was out of date.
Its classrooms are designed for large lectures rather than modern small-group learning, officials said.
With the new building, the School of Medicine has proposed increasing the class size of its current Kansas City campus by 50 students, from 175 to 225.
"We can clearly turn out more physicians in Kansas," with the facility, Stites said.
While the two proposals are different, he said, they are connected in that they will attract "the best and brightest" to KU.
Copyright 2018 The Lawrence Journal-World. All rights reserved. This material may not be published, broadcast, rewritten or redistributed. We strive to uphold our values for every story published.