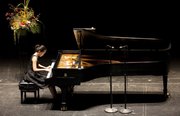 In the pavilion, a small offshoot space in the Lied Center, a 14-year-old boy plays Chopin masterfully. Part of the Sonata No. 3 in B minor flies out from his fingers. Ryan Jannak-Huang is a pro at this, so to speak. He's been seriously studying piano for nine years from his home in Palatine, Ill. But this performance is something nerve-wracking. It's the biggest, most prestigious competition he's been in yet.
Not too far away behind a wall, as Ryan is playing, his twin brother is pacing, trying to get some control over his nerves, too. It'll be his turn to play next.
Ryan and Kyle Jannak-Huang were two of the 12 kids ranging from 12 to 17 who competed Saturday in the semifinal round of Kansas University's International Institute for Young Musicians piano competition. It's an annual competition that leads into a camp for piano led by KU professors and experts from around the world.
IIYM Schedule of Events
• 3 p.m. Monday: International Piano Competition Finals, free and open to the public.
• 7:30 p.m. Thursday: Honors Recital, free and open to the public.
• 3 p.m. Saturday: Winners Concert for the International Piano Competition. Tickets $10 at the door.
• 7:30 p.m. July 18: Honors Recital, free and open to the public.
• 7:30 p.m. July 25: Honors Recital, free and open to the public
Ryan says his nerves very much got the best of him.
"I missed a lot of notes," he said, only to be interjected by a passerby who gave a friendly, "You're just being modest!"
"No, I think it was pretty noticeable," Ryan said in return. "Thanks, though."
Brian Zeng, who is 16 and from Sunnyvale, Calif., said he wasn't too thrilled about his performance either but said it had already gotten him excited to do better. And to practice some controlled breathing to give his performance a more relaxed feel — "to put my mind at peace."
Ryan and Kyle are supportive of each other, especially when one may be down. But still, they're after the same prize.
"It's a little competitive, but we try to help," Ryan said as Kyle sat down to the piano in the pavilion.
Evan Lin, Evelyn Mo, Chaeyoung Park, Trenton Takaki, Rieko Tsuchida and Alice Zhu, were named finalists and will compete again Monday. Brian Zeng received honorable mention but did not advance in the competition.
Copyright 2018 The Lawrence Journal-World. All rights reserved. This material may not be published, broadcast, rewritten or redistributed. We strive to uphold our values for every story published.