Earl Barnes has never backed down from a challenge, and he has another one ahead of him Sunday in the Aquaphor New York City Triathlon.
Barnes, 39, has a challenge most of the other 3,000 expected participants will not have to face. He will be competing as an amputee after losing part of his right leg in a motorcycle accident in 1997 when he was T-boned by the car of a woman who drove through a red light.
It was not until after an additional amputation in the fall of 2009 that he began competing in triathlons, half marathons, 5-kilometer road races and even a Warrior Dash.
"One of the ironic things is that something that has been taken away from me has proved to be a godsend," Barnes said.
While Barnes has competed in more than a dozen races since 2010, the 2012 Aquaphor New York City Triathlon will be his first outside of Kansas and Missouri.
The race will begin with a 1.5-kilometer swim in the Hudson River, followed by a 40-kilometer bike ride along Hudson Parkway and a 10-kilometer run through Central Park.
"(The scenery) is going to be a huge distraction," Barnes said. "I've only been to New York City once, and I didn't get to see any of that while I was there. Hopefully, I'll be able to keep a little bit of a focus and actually race as opposed to being along for the ride."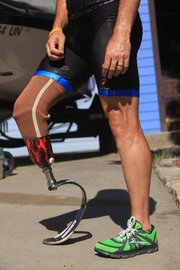 The Lawrence native knows that the course will not be easy for anyone, but Barnes feels it will pose even more of a challenge for the paratriathletes.
"The New York City race, specifically, is going to be in the Hudson River, and it will be down-stream," Barnes said. "So I'll not only have to account for the water pushing me down-stream, but I'll also have to look up and look around a little bit because as I understand, the Hudson is not as clear as some of the places (I've) swam at. Plus, with the biking, I get more power out of my regular leg than I do my prosthetic leg, and with the heat and humidity of New York City, I think that is going to be a big disadvantage."
While Barnes thinks the swimming and biking might be the most rigorous legs of the New York City course, running has always been the most challenging part of a triathlon.
"I grew up swimming through high school and biking just kind of for fun, and I was never really a runner," Barnes said. "I suffered from asthma terribly, terribly bad growing up, and I was always told not to run outside."
To go along with competing in different races in his free time, Barnes works as a firefighter and was one of the first in the nation to be an amputee firefighter.
Barnes said many of the obstacles he faces as a firefighter help him when training or competing in triathlons and other athletic events.
"They are very similar," Barnes said. "You really have to be 100 percent ready to go when you show up to work. (Firefighting) is a job where you are almost a professional athlete in that you can't really just take a day off and still get paid."
Results for the 2012 Aquaphor New York City Triathlon will be available at www.nyctri.com. The top three paratriathletes will be awarded prize money, and the top 15 will earn a spot in the Hy-Vee 5150 U.S. Championship race.
Copyright 2018 The Lawrence Journal-World. All rights reserved. This material may not be published, broadcast, rewritten or redistributed. We strive to uphold our values for every story published.