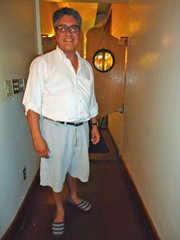 Name: Jimmy Calderon
Age: 44
Relationship status: Married with an awesome son
Hometown: Lawrence
Time in Lawrence: Been here since '85. Moved away just enough to miss it.
Occupation: Spanish translator
Dream job: A good, cushy acting role in a TV series
What were you doing when scouted? Reciting lines for a play I was in recently
Describe your style: 100 percent Colombian
Fashion trends you love: '40s, '50s, patch pockets, Stetson hats, two-toned shoes, guayabera shirts
Fashion trends you hate: People who only wear T-shirts
Fashion influences: People I see around town
What would you like to see more of in Lawrence? Guayabera shirts. If I saw a bunch of people around here wearing guayaberas, I would feel at home. I would have a box of cigars to hand out.
Less of? T-shirts
Tattoos or piercings? No
Who do people say you look like? Robert Downey, Jr.
Tell us a secret… I think I'm very happy.
Copyright 2018 The Lawrence Journal-World. All rights reserved. This material may not be published, broadcast, rewritten or redistributed. We strive to uphold our values for every story published.