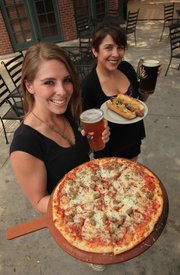 Live music with your food
Here's the tentative live music lineup for Party in the Park:
3:30-4:30 p.m. — Alferd Packer Memorial String Band
4:45-5:45 p.m. — Floyd Barber Jazz Quartet
6-7:30 p.m. — Billy Ebeling and the Late for Dinner Band
7:45-9:30 p.m. — Brandon Miller Band
At Wednesday's July Fourth Party in the Park, you'll find fare from all corners of the earth — Indian and Latin American included.
But there will be even more good ol' American treats, including Lawrence-brewed beer, burgers, barbecue, sno-cones and even funnel cakes.
"What I like to tell people is, come with an empty stomach, and just go sample a lot of different items," says Matt Llewellyn, managing partner at 23rd Street Brewery and treasurer of the Lawrence Originals, which organizes the annual event. "Don't just go to one booth. Try them all."
Party in the Park is planned for 3-10 p.m. at Watson Park, on Kentucky Street between Sixth and Eighth streets. The event will feature live bands, a bounce house for kids, a dunk tank, face painting and the annual professional fireworks show, expected to start around 9:45 p.m.
Admission is free, and food and drinks from an anticipated 18 locally owned restaurants will be available for an additional charge — cash only.
Llewellyn said the booth set up by 23rd Street Brewery, 3512 Clinton Parkway, is sticking with the basics: bratwursts and several flavors of beer.
They'll have their Rock Chalk Raspberry, Crimson Phog and Kansas Prairie Light — 23rd Street's signature "festival" beer, brewed especially for "outdoor events that people really want a nice, crisp refreshing beer," Llewellyn said.
Doug Holiday's all-American offerings will be pulled pork sandwiches, ribs, funnel cakes and cheeseburgers.
Holiday owns Bigg's Barbecue, 2429 Iowa St., and Burgers by Biggs, which opened in May at 4801 Bower Farm Drive.
The pulled pork and ribs recipes come from Bigg's Barbecue, of course, and the cheeseburgers are a nod to Burgers by Bigg's, Holiday said.
The funnel cakes, however, are special for the July Fourth festival.
Other anticipated treats, Llewellyn and Holiday said, include locally grown corn on the cob from Johnny's, club sandwiches from the Yacht Club, naan bread wraps with grilled tandoori chicken or pork loin from Zen Zero and tacos al Pastor from La Parrilla.
The Olivia Collection restaurants — which include the Eldridge and the Oread — have planned a picnic-like spin on their more typical white-tablecloth recipes. For one, the Oread is planning to offer Braised Short Rib Sloppy Joes.
""They really try to jazz it up," Llewellyn said. "They have very fancy food."
Last year, only Teller's had restrooms to match their white-tablecloth fare, Llewellyn said, but that will change this year.
On Wednesday, air-conditioned restrooms will be available free of charge to all attendees, which should be a welcome improvement, especially in this week's extreme heat, Llewellyn said.
For the restaurants involved, Party in the Park is a team effort they hope will help them all.
Ideally, attendees will try some new things, enjoy them, then return with their family to one of the participating Lawrence Originals restaurants, Holiday said. He noted all member restaurants are locally owned — no chains.
"Rather than look at them as our competitors, we kind of look at them as colleagues," Holiday said.
Copyright 2018 The Lawrence Journal-World. All rights reserved. This material may not be published, broadcast, rewritten or redistributed. We strive to uphold our values for every story published.