Topeka — Officials may learn in May or June whether the Kansas University Cancer Center has achieved national designation from the National Cancer Institute, Roy Jensen, director of the KU Cancer Center, told legislators Wednesday.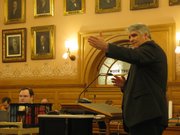 "We are in the final sprint of this process," Jensen told the House Appropriations Committee.
He said an NCI team will visit the cancer center on Feb. 22 to "kick the tires and put us through our paces." Officials have said NCI designation would mean more federal grants, advances in cancer research and improved access for Kansans and others in the region to top cancer treatments.
State Rep. Marvin Kleeb, R-Overland Park, asked Jensen if he had any concerns about the application.
Jensen said he believes the Cancer Center's strategy and direction have been on target. The only concern, he said, was "are we far enough along in our trajectory to make sure that we are absolutely over the hump?"
But Jensen expressed optimism that the cancer center would receive the national designation. "I feel good about it, our people are ready and I think we are going to make a strong case a month from today," he said.
He said if the center doesn't receive NCI designation, then it would probably take at least two years to be reconsidered.
Jensen said in his testimony that without funding from the Kansas Bioscience Authority "it would be very difficult to build our cancer center."
But state Rep. Anthony Brown, R-Eudora, noted a recently completed audit of the KBA found instances of document destruction, misuse of funds and questionable management by former KBA chief executive officer Tom Thornton, who resigned in April. The audit cost nearly $1 million and resulted in the return of $4,700 in KBA funds.
But Jensen said that he understood the audit found no problems with the way the KBA handled its business of funding projects.
"My understanding is that there were no, either specific or general issues, related to the value of projects or awarding or dispensation of funds, and it was pretty much limited to one official in the KBA," he said.
The KBA was created in 2004 and tasked with using $581 million in tax funds over 10 years to expand bioscience research and business in Kansas.
The KBA has provided approximately $50 million to the cancer center to develop state-of-the-art facilities and recruit world-class scientists, according to KU.
Copyright 2017 The Lawrence Journal-World. All rights reserved. This material may not be published, broadcast, rewritten or redistributed. We strive to uphold our values for every story published.